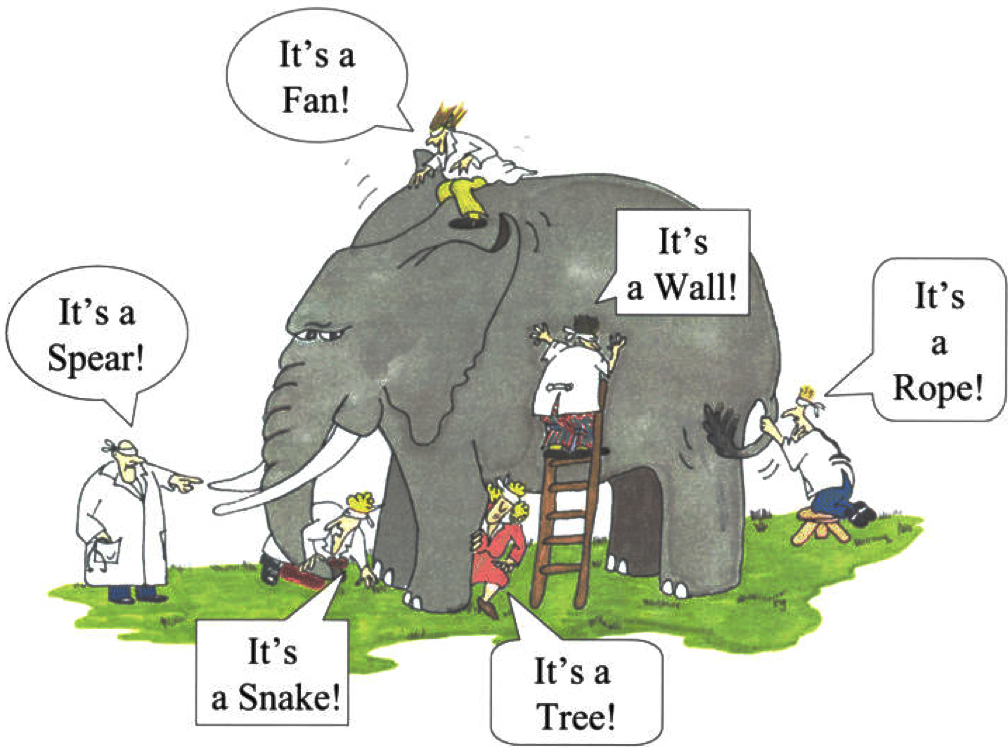 This was preached at Trinity Moravian Church on November 13, 2016.
It's been a difficult week. We've seen demonstrations, some of which have turned violent. We have seen swastikas painted on walls, racist slurs chanted at Wake Forest. A couple in Kernersville had a terrifying message left on their car. A lot has happened – not in LA or New York or Chicago. In our back yard. In our community.
If you read the message on the cover of this month's newsletter, a message written weeks before the election, I said that our work as followers of Christ began anew on November 9th. Here's what I wrote:
The fact is that after the election, things will not return to "normal." In many ways, no matter who wins one office or another, nearly half our friends and relatives will be angry and disappointed and hostile. That's the moment when our work as followers of Christ kicks in to high gear – to reach out in a spirit of reconciliation, to show that our spirits were not "sharpened against those that voted on the other side," and focus with relentless energy on sharing the love of Christ.
If anything, I underestimated the "angry and hostile." It is not my job to be a political pundit, to analyze or scrutinize. It is my job to challenge the faithful followers of Christ to their highest and best calling. And one calling we are NOT called to is calling one another names. Saying that everyone who voted for Trump is a racist and a bigot; calling everyone who voted for Clinton a "Libtard" – or anything similar; these should be out of bounds for any follower of Christ. Period. If you don't understand why, you and I need to have coffee this week.
The Blind Men and the Elephant
A number of months ago, while preaching about John Hus' valiant search for God's truth, I told an old story about several blind men "seeing" an elephant. Now, I need to make clear that the elephant in this story has no political ties at all. I tried to change the story to a rhino or some other neutral animal, or come up with an illustration of blind men and a donkey, but I came up short. The story has been around for hundreds of years, it originated in India, and it's always been an elephant. It goes like this:
Six blind men are asked to describe an elephant. They each walk up to the elephant and feel it very carefully. The first one, feeling a sharp ivory tusk, says "It's like a spear!" The second, feeling the elephant's trunk, said "No, it's like a large snake." The third, which had climbed up on top of the elephant, and was feeling its ear, pronounced that it was like a fan. The fourth, feeling with both hands the huge side of the elephant, said "It's a wall." The fifth had reached his hands all around one of the elephant's legs, and said, "No, you're all wrong, it's like a tree!" The sixth man, holding the elephant's tail, laughed at all the rest. "You're all fools. It's just a rope!"
Each man was convinced that he was right and the others were wrong.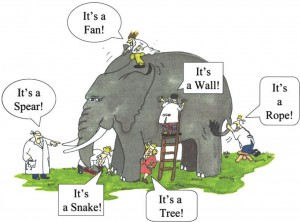 There's an alternate ending to the story: that the next day, six blind women were asked to describe the same animal. They came and each one felt one part of the animal's body. Then one of them said "I have to go to the powder room." Strangely enough, all of them needed to go to the powder room, and so they went off together. A few minutes later, they came back and one of the ladies announced, "It's an elephant." They had talked in the powder room.
Now, that alternate ending is probably unfair to the guys and maybe too generous to the ladies. But the point is that not only did they talk to one another, they listened to one another.
In the midst of all the media noise and busy-ness of our culture, we have a terrible deficit of listening. Lots of shouting, very little listening. I read a sociological study that was done a while ago that analyzed and tracked hundreds of recorded conversations between real people. They categorized the different tracks of the conversation and whether they were responsive to the other person. In the vast majority of cases, they found that most of the time the people paid little attention to what the other person said; they were just waiting until it was their turn to talk. The majority of the responses had very little to with actually listening to what the other person said.
This happens in marriages all the time. An outsider listening to a marital spat is often baffled because the two are talking about completely different things; or a simple observation is given huge emotional weight by the other spouse that seems completely out of proportion. And sometimes it's just talking past one another.
A computer programmer is going to the grocery store and his wife tells him, "Buy a gallon of milk, and if there are eggs, buy a dozen." So the programmer goes, buys everything, and drives back to his house. Upon arrival, his wife angrily asks him, "Why did you get 13 gallons of milk?" The programmer says, "There were eggs!"
In hard and emotional discussions, such as a marital difference or a bad job review, it is most common for people to listen only with an eye toward responding. In other words, they don't genuinely listen to the criticism or problem, they listen only for things they can use as weapons in response. That's a guaranteed way to have a disastrous and unproductive non-discussion.
Active Listening
In seminary, when we get to classes on pastoral counseling, one thing that is drilled into us is "active listening." This is the practice of setting aside all distractions, like the important letter we forgot to send out, and focusing completely and exclusively on what the other person is really saying. In many cases we have to listen for what they are really saying behind the smokescreen of what they have literally said. When someone tells you that "everything is all right" at home when you can feel the tension and the tears under the surface, sometimes we have to tease that out and see what's really going on. In many cases, we have to listen carefully to angry, hurt spouses and hear every bit of their pain – but be wise enough to know that their side of the story, their version of what the other spouse is like, may not be the whole truth at all.
When we get on to the end of our graduate studies, during our internship (known as Clinical Pastoral Education, usually in a hospital setting) we will be drilled and challenged on our ability to faithfully hear and understand what others have said to us, particularly when it is critical or emotion-filled.
A rule of thumb is to not believe the caricature that one person draws of another, especially when they have some vested interest in slanting the picture. If you believe the false caricature of atheists and agnostics that is drawn by fundamentalist filmmakers, you will have a very false impression of what real atheists and agnostics believe. I know some atheists who are profoundly moral people. In many cases, they have rejected a cruel and flawed version of Christianity, but have not yet found a deeper and more profound spiritual life. I've found it helpful to ask them "What kind of God don't you believe in?" because often I can tell them that's not the God I believe in, as well. But by the same token, you shouldn't believe the false caricature that militant atheists like Richard Dawkins draw of Christians! Because the false picture that he draws is unbelievably distorted and hateful. In the world of philosophy and logic, this sort of thing is called a "straw man" argument. You can't really pick holes in the case the other person has made, so you make up a false representation of their argument, one which is full of holes, and then attack that. It's one of the most common strategies in the political arena.
So the first thing that we must do as followers of Christ is to stop believing the false pictures that have been carefully crafted for us to convince us to vote one way or another. And the second thing we need to do is listen with genuine compassion and open hearts to the stories of the real people that have been hurt by the system on both sides…on all sides.
And that's going to be hard. Because most of us today are firmly entrenched in a bubble of comfortable reassurance that everything we think is true and right. We tune in to news channels that only give us news we agree with, listen to pundits who only say things we already think; we dismiss out of hand dissonant information from any other source. We have friends who believe the same things we do. And in many cases, people go to churches filled only with people who also agree with them.
At our recent minister's conference at Laurel Ridge, it was good to hear Bishop Wayne Burkette say that he was glad that many Moravian Churches are "purple" – i.e. filled with a mix of political points of view. Unlike churches that are homogenous, he said, we are challenged by the real stories and real faith of people who view the world very differently from ourselves. Proverbs 27:17 says "As iron sharpens iron, so one person sharpens another."
We need to LISTEN to one another's stories. And this is hard work. This is challenging work. This is world-view cracking, unsettling work. We need to set aside the caricatures and easy platitudes and political litmus tests and straw men and listen to one another.
If you're a city liberal, you need to get outside of your comfort zone and go have coffee at a small town diner with a farmer who's about to lose his farm, which has been in the family for generations, because you get cheap prices at the grocery store.
If you're a conservative, you need to go spend some time working at Sunnyside Ministry and listen to the story of the young mother who is working two jobs to support her children, and is paid so little that she cannot feed them and keep the heat on at the same time. The young black man who missed three days from work because of the flu, and now can't pay his rent and is about to be evicted.
Rod Dreher, columnist for The American Conservative Magazine, recently wrote:
As a conservative, I grow weary of fellow middle-class conservatives acting as if it were possible simply to bootstrap your way out of poverty. My dad was able to raise my sister and me in the 1970s on a civil servant's salary, supplemented by my mom's small salary as a school bus driver. I doubt this would be possible today. 1
Responding to this comment, J. D. Vance, the author of the book Hillybilly Elegy, said:
We need to judge less and understand more. It's so easy for conservatives to use "culture" as an ending point in a discussion–an excuse to rationalize their worldview and then move on–rather than a starting point [for discussion]. 1
If you're a faithful party Republican or a faithful party Democrat, you need to go and sit down in the worn and tattered parlor of a poor white mill worker in Leaksville or Mebane – or for that matter, Reading PA or Youngstown, Ohio – a proud man who did his job well, and who does not want to be dole, finds his very being destroyed by being on welfare. But he is trained to do nothing else – and hear how both parties have sold him out with empty promises that turned out to be more care packages for the already-wealthy.
If you're one who is against gay people, you need to sit down and listen to the story of the teenager who has always felt "different;" who has been bullied and pushed around and victimized at school, and who has now been kicked out by his "Christian" parents. He thinks regularly of suicide.
Will these conversations be hard? Of course they will! In a video about our discussions regarding homosexuality and the church, one which I hope you will all see and discuss, Sister Nola Knouse says:
There should be no topic at all that we, as brothers and sisters in Christ, have to avoid talking about. There are Moravians who love Jesus, and who love their sisters and brothers, on all sides of this question, and we owe it to ourselves to deal openly, honestly, and lovingly with one another.
In the Gospel lesson for today, especially selected for the Festival of November 13th, Jesus says:
"Very truly I tell you, I am the gate for the sheep. All who have come before me are thieves and robbers, but the sheep have not listened to them. I am the gate; whoever enters through me will be saved. They will come in and go out, and find pasture. The thief comes only to steal and kill and destroy; I have come that they may have life, and have it to the full." – John 10:7-10
The equally challenging Gospel that is normally read on this Sunday in the Church Year, is from Luke 21:
You will be betrayed even by parents and brothers, by relatives and friends; and they will put some of you to death. You will be hated by all because of my name. But not a hair of your head will perish. By your endurance you will gain your souls. -Luke 21:16-19
Christ the Chief Elder
One of the things the Scriptures tell us again and again is that we must not put our faith in weak human beings – in kings or politicians or Popes. Other denominations are often lead by a single human authority like the Pope or the Archbishop of Canterbury. And while I think highly of Pope Francis and of Archbishop Justin Welby, I am under no illusion that they are infallible or perfect. Even less do I put faith in politicians, even those who claim to be outsiders, to solve our problems. In the past, Moravians also had an elected head. In the early 18th century, Leonard Dober served as the Chief Elder. He was a remarkable, faithful, and profoundly dedicated person – but he realized the task was beyond him. In the early Unity, we had Presidents, wonderful leaders like Bishop John Amos Comenius or Luke of Prague, who did their best to lead the denomination – but often felt ill-equipped to meet the terrible challenges they often faced.
When Leonard Dober resigned, saying that no one person was able to supervise the spiritual needs of the wide-flung missions – in the Caribbean, in South Africa, in India, in Greenland, in America – the Elders that met in London in 1741 had a difficult task. The Synod meeting included:
Count and Countess von Zinzendorf, Benigna, their daughter (who was only 16), Leonard Dober, Anna Maria Lawatsch, Friedrich von Watteville, Rosina Nitschmann, David Nitschmann (not the bishop), and August and Mary Spangenberg. Nearly all were under the age of 42, and half of them were women!
In those days, it was very important that every decision was submitted to the lot, as a way of actively listening to Christ. Every name that was floated was rejected by the lot; and in fact, many were submitted tenuously since Dober had fully convinced the Elders of how difficult the job had become. They entered a period of prayer and Bible study; the Scriptures that they read spoke over and over of Christ as the great Shepherd. One of them was the Gospel lesson we read this morning. Finally, a few put forth the idea: maybe Christ Himself should be the Chief Elder, and lead His people directly. Christ was formally nominated and elected by acclamation – I mean, who was going to vote against Jesus? – but then the election was put to the lot. And the lot confirmed the election. In their view, Jesus Himself had agreed to serve in that high office. In good Moravian fashion, they sang a hymn, "We kiss thee with great tenderness, you elder of the congregation."
This was on September 16, 1741. This decision was not immediately announced. There was no Twitter, no Skype, no telephones, not even telegraph. Communication was by hand-written letter carried by courier on ships and horseback. The Elders decided that the news should be announced simultaneously in all churches; and to allow enough time for communication, they selected November 13, which was a Monday in the old-style calendar.
And that is why today, Moravians the world over gather at the Table of the Lord together, no matter what political party, nation, or station in life, humble Christians together sharing a meal given by the hand of our Savior, our Chief Elder. The actual date of the election, September 16th, is observed each year by pastors, who gather for a Cup of Covenant service in which we rededicate ourselves to the ministry of Christ.
A final point that must be made: this unique election came about not because of the political mechanisations of archbishops and cardinals, sending up white smoke; or of political brokers in smoke-filled rooms where sausage was made; or in anger-filled campaigns of horrible rhetoric and nasty accusations. It came about because these very dedicated people paused to listen to the Savior.
You remember when I talked about "active listening?" One of the things that we must do as followers of Christ is listen actively to HIM. We may not use the lot any more. But Bible study and sincere prayer will do much to transform our hearts from stony brokenness and anger and change them into hearts of love, hearts of faith.
To prepare for this simple meal, we have the privilege of singing together a new hymn, which has never before been sung in public worship, a hymn written by our own Ed Lyons. I hope as you prepare to receive the bread and wine, the body and blood, you will be able to do so with a humble and repentant heart, standing next to brothers and sisters who are bound together as one in Jesus Christ.
Now comes the hour when we meet
To gather in the banquet sweet
For those we serve, who can't repay,
Whose voices cry to you each day.
The world has tendered heavy cares
On those to whom Thy mercy shares.
We have abundance to delight
The hungry people day and night.
Then let us bow our heads in prayer
And so the sacred meal prepare
To link each one in heart and mind.
Now we shall love, we shall be kind.
As when we set our table good
To take Thy body and Thy blood,
We offer food and drink to those
Who Thou above the privileged chose.
Where Zion's holy waters flow
The lovely trees of healing grow.
Thy Spirit dwell with us that we
May come those blessed shores to see!
Text: Edward Lyons, III (2016)
 Tune: Puer Nobis (Adapted by Michael Praetorius, 1571-1621) Moravian Book of Worship, page 267
1. Rob Dreher: "Trump: Tribune Of Poor White People," The American Conservative Magazine, July 22, 2016 (more…)