PastorJohn
This user hasn't shared any profile information
Home page: http://www.trinitymoravian.org
Posts by PastorJohn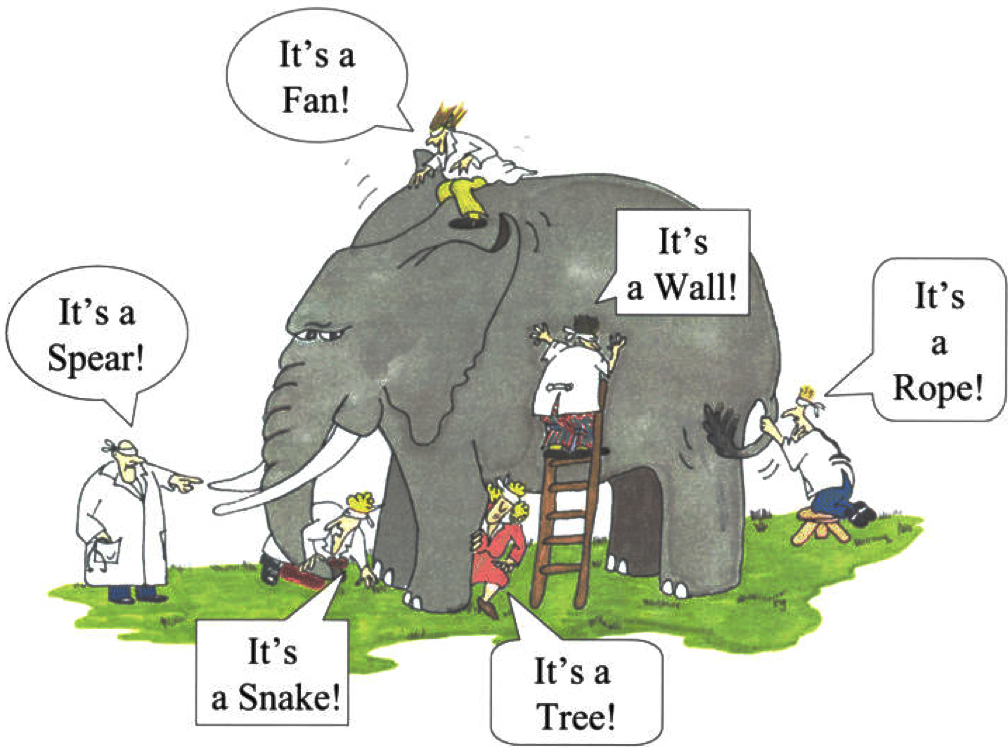 This was preached at Trinity Moravian Church on November 13, 2016.
It's been a difficult week. We've seen demonstrations, some of which have turned violent. We have seen swastikas painted on walls, racist slurs chanted at Wake Forest. A couple in Kernersville had a terrifying message left on their car. A lot has happened – not in LA or New York or Chicago. In our back yard. In our community.
If you read the message on the cover of this month's newsletter, a message written weeks before the election, I said that our work as followers of Christ began anew on November 9th. Here's what I wrote:
The fact is that after the election, things will not return to "normal." In many ways, no matter who wins one office or another, nearly half our friends and relatives will be angry and disappointed and hostile. That's the moment when our work as followers of Christ kicks in to high gear – to reach out in a spirit of reconciliation, to show that our spirits were not "sharpened against those that voted on the other side," and focus with relentless energy on sharing the love of Christ.
If anything, I underestimated the "angry and hostile." It is not my job to be a political pundit, to analyze or scrutinize. It is my job to challenge the faithful followers of Christ to their highest and best calling. And one calling we are NOT called to is calling one another names. Saying that everyone who voted for Trump is a racist and a bigot; calling everyone who voted for Clinton a "Libtard" – or anything similar; these should be out of bounds for any follower of Christ. Period. If you don't understand why, you and I need to have coffee this week.
The Blind Men and the Elephant
A number of months ago, while preaching about John Hus' valiant search for God's truth, I told an old story about several blind men "seeing" an elephant. Now, I need to make clear that the elephant in this story has no political ties at all. I tried to change the story to a rhino or some other neutral animal, or come up with an illustration of blind men and a donkey, but I came up short. The story has been around for hundreds of years, it originated in India, and it's always been an elephant. It goes like this:
Six blind men are asked to describe an elephant. They each walk up to the elephant and feel it very carefully. The first one, feeling a sharp ivory tusk, says "It's like a spear!" The second, feeling the elephant's trunk, said "No, it's like a large snake." The third, which had climbed up on top of the elephant, and was feeling its ear, pronounced that it was like a fan. The fourth, feeling with both hands the huge side of the elephant, said "It's a wall." The fifth had reached his hands all around one of the elephant's legs, and said, "No, you're all wrong, it's like a tree!" The sixth man, holding the elephant's tail, laughed at all the rest. "You're all fools. It's just a rope!"
Each man was convinced that he was right and the others were wrong.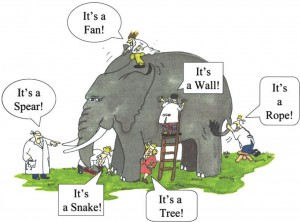 There's an alternate ending to the story: that the next day, six blind women were asked to describe the same animal. They came and each one felt one part of the animal's body. Then one of them said "I have to go to the powder room." Strangely enough, all of them needed to go to the powder room, and so they went off together. A few minutes later, they came back and one of the ladies announced, "It's an elephant." They had talked in the powder room.
Now, that alternate ending is probably unfair to the guys and maybe too generous to the ladies. But the point is that not only did they talk to one another, they listened to one another.
In the midst of all the media noise and busy-ness of our culture, we have a terrible deficit of listening. Lots of shouting, very little listening. I read a sociological study that was done a while ago that analyzed and tracked hundreds of recorded conversations between real people. They categorized the different tracks of the conversation and whether they were responsive to the other person. In the vast majority of cases, they found that most of the time the people paid little attention to what the other person said; they were just waiting until it was their turn to talk. The majority of the responses had very little to with actually listening to what the other person said.
This happens in marriages all the time. An outsider listening to a marital spat is often baffled because the two are talking about completely different things; or a simple observation is given huge emotional weight by the other spouse that seems completely out of proportion. And sometimes it's just talking past one another.
A computer programmer is going to the grocery store and his wife tells him, "Buy a gallon of milk, and if there are eggs, buy a dozen." So the programmer goes, buys everything, and drives back to his house. Upon arrival, his wife angrily asks him, "Why did you get 13 gallons of milk?" The programmer says, "There were eggs!"
In hard and emotional discussions, such as a marital difference or a bad job review, it is most common for people to listen only with an eye toward responding. In other words, they don't genuinely listen to the criticism or problem, they listen only for things they can use as weapons in response. That's a guaranteed way to have a disastrous and unproductive non-discussion.
Active Listening
In seminary, when we get to classes on pastoral counseling, one thing that is drilled into us is "active listening." This is the practice of setting aside all distractions, like the important letter we forgot to send out, and focusing completely and exclusively on what the other person is really saying. In many cases we have to listen for what they are really saying behind the smokescreen of what they have literally said. When someone tells you that "everything is all right" at home when you can feel the tension and the tears under the surface, sometimes we have to tease that out and see what's really going on. In many cases, we have to listen carefully to angry, hurt spouses and hear every bit of their pain – but be wise enough to know that their side of the story, their version of what the other spouse is like, may not be the whole truth at all.
When we get on to the end of our graduate studies, during our internship (known as Clinical Pastoral Education, usually in a hospital setting) we will be drilled and challenged on our ability to faithfully hear and understand what others have said to us, particularly when it is critical or emotion-filled.
A rule of thumb is to not believe the caricature that one person draws of another, especially when they have some vested interest in slanting the picture. If you believe the false caricature of atheists and agnostics that is drawn by fundamentalist filmmakers, you will have a very false impression of what real atheists and agnostics believe. I know some atheists who are profoundly moral people. In many cases, they have rejected a cruel and flawed version of Christianity, but have not yet found a deeper and more profound spiritual life. I've found it helpful to ask them "What kind of God don't you believe in?" because often I can tell them that's not the God I believe in, as well. But by the same token, you shouldn't believe the false caricature that militant atheists like Richard Dawkins draw of Christians! Because the false picture that he draws is unbelievably distorted and hateful. In the world of philosophy and logic, this sort of thing is called a "straw man" argument. You can't really pick holes in the case the other person has made, so you make up a false representation of their argument, one which is full of holes, and then attack that. It's one of the most common strategies in the political arena.
So the first thing that we must do as followers of Christ is to stop believing the false pictures that have been carefully crafted for us to convince us to vote one way or another. And the second thing we need to do is listen with genuine compassion and open hearts to the stories of the real people that have been hurt by the system on both sides…on all sides.
And that's going to be hard. Because most of us today are firmly entrenched in a bubble of comfortable reassurance that everything we think is true and right. We tune in to news channels that only give us news we agree with, listen to pundits who only say things we already think; we dismiss out of hand dissonant information from any other source. We have friends who believe the same things we do. And in many cases, people go to churches filled only with people who also agree with them.
At our recent minister's conference at Laurel Ridge, it was good to hear Bishop Wayne Burkette say that he was glad that many Moravian Churches are "purple" – i.e. filled with a mix of political points of view. Unlike churches that are homogenous, he said, we are challenged by the real stories and real faith of people who view the world very differently from ourselves. Proverbs 27:17 says "As iron sharpens iron, so one person sharpens another."
We need to LISTEN to one another's stories. And this is hard work. This is challenging work. This is world-view cracking, unsettling work. We need to set aside the caricatures and easy platitudes and political litmus tests and straw men and listen to one another.
If you're a city liberal, you need to get outside of your comfort zone and go have coffee at a small town diner with a farmer who's about to lose his farm, which has been in the family for generations, because you get cheap prices at the grocery store.
If you're a conservative, you need to go spend some time working at Sunnyside Ministry and listen to the story of the young mother who is working two jobs to support her children, and is paid so little that she cannot feed them and keep the heat on at the same time. The young black man who missed three days from work because of the flu, and now can't pay his rent and is about to be evicted.
Rod Dreher, columnist for The American Conservative Magazine, recently wrote:
As a conservative, I grow weary of fellow middle-class conservatives acting as if it were possible simply to bootstrap your way out of poverty. My dad was able to raise my sister and me in the 1970s on a civil servant's salary, supplemented by my mom's small salary as a school bus driver. I doubt this would be possible today. 1
Responding to this comment, J. D. Vance, the author of the book Hillybilly Elegy, said:
We need to judge less and understand more. It's so easy for conservatives to use "culture" as an ending point in a discussion–an excuse to rationalize their worldview and then move on–rather than a starting point [for discussion]. 1
If you're a faithful party Republican or a faithful party Democrat, you need to go and sit down in the worn and tattered parlor of a poor white mill worker in Leaksville or Mebane – or for that matter, Reading PA or Youngstown, Ohio – a proud man who did his job well, and who does not want to be dole, finds his very being destroyed by being on welfare. But he is trained to do nothing else – and hear how both parties have sold him out with empty promises that turned out to be more care packages for the already-wealthy.
If you're one who is against gay people, you need to sit down and listen to the story of the teenager who has always felt "different;" who has been bullied and pushed around and victimized at school, and who has now been kicked out by his "Christian" parents. He thinks regularly of suicide.
Will these conversations be hard? Of course they will! In a video about our discussions regarding homosexuality and the church, one which I hope you will all see and discuss, Sister Nola Knouse says:
There should be no topic at all that we, as brothers and sisters in Christ, have to avoid talking about. There are Moravians who love Jesus, and who love their sisters and brothers, on all sides of this question, and we owe it to ourselves to deal openly, honestly, and lovingly with one another.
In the Gospel lesson for today, especially selected for the Festival of November 13th, Jesus says:
"Very truly I tell you, I am the gate for the sheep. All who have come before me are thieves and robbers, but the sheep have not listened to them. I am the gate; whoever enters through me will be saved. They will come in and go out, and find pasture. The thief comes only to steal and kill and destroy; I have come that they may have life, and have it to the full." – John 10:7-10
The equally challenging Gospel that is normally read on this Sunday in the Church Year, is from Luke 21:
You will be betrayed even by parents and brothers, by relatives and friends; and they will put some of you to death. You will be hated by all because of my name. But not a hair of your head will perish. By your endurance you will gain your souls. -Luke 21:16-19
Christ the Chief Elder
One of the things the Scriptures tell us again and again is that we must not put our faith in weak human beings – in kings or politicians or Popes. Other denominations are often lead by a single human authority like the Pope or the Archbishop of Canterbury. And while I think highly of Pope Francis and of Archbishop Justin Welby, I am under no illusion that they are infallible or perfect. Even less do I put faith in politicians, even those who claim to be outsiders, to solve our problems. In the past, Moravians also had an elected head. In the early 18th century, Leonard Dober served as the Chief Elder. He was a remarkable, faithful, and profoundly dedicated person – but he realized the task was beyond him. In the early Unity, we had Presidents, wonderful leaders like Bishop John Amos Comenius or Luke of Prague, who did their best to lead the denomination – but often felt ill-equipped to meet the terrible challenges they often faced.
When Leonard Dober resigned, saying that no one person was able to supervise the spiritual needs of the wide-flung missions – in the Caribbean, in South Africa, in India, in Greenland, in America – the Elders that met in London in 1741 had a difficult task. The Synod meeting included:
Count and Countess von Zinzendorf, Benigna, their daughter (who was only 16), Leonard Dober, Anna Maria Lawatsch, Friedrich von Watteville, Rosina Nitschmann, David Nitschmann (not the bishop), and August and Mary Spangenberg. Nearly all were under the age of 42, and half of them were women!
In those days, it was very important that every decision was submitted to the lot, as a way of actively listening to Christ. Every name that was floated was rejected by the lot; and in fact, many were submitted tenuously since Dober had fully convinced the Elders of how difficult the job had become. They entered a period of prayer and Bible study; the Scriptures that they read spoke over and over of Christ as the great Shepherd. One of them was the Gospel lesson we read this morning. Finally, a few put forth the idea: maybe Christ Himself should be the Chief Elder, and lead His people directly. Christ was formally nominated and elected by acclamation – I mean, who was going to vote against Jesus? – but then the election was put to the lot. And the lot confirmed the election. In their view, Jesus Himself had agreed to serve in that high office. In good Moravian fashion, they sang a hymn, "We kiss thee with great tenderness, you elder of the congregation."
This was on September 16, 1741. This decision was not immediately announced. There was no Twitter, no Skype, no telephones, not even telegraph. Communication was by hand-written letter carried by courier on ships and horseback. The Elders decided that the news should be announced simultaneously in all churches; and to allow enough time for communication, they selected November 13, which was a Monday in the old-style calendar.
And that is why today, Moravians the world over gather at the Table of the Lord together, no matter what political party, nation, or station in life, humble Christians together sharing a meal given by the hand of our Savior, our Chief Elder. The actual date of the election, September 16th, is observed each year by pastors, who gather for a Cup of Covenant service in which we rededicate ourselves to the ministry of Christ.
A final point that must be made: this unique election came about not because of the political mechanisations of archbishops and cardinals, sending up white smoke; or of political brokers in smoke-filled rooms where sausage was made; or in anger-filled campaigns of horrible rhetoric and nasty accusations. It came about because these very dedicated people paused to listen to the Savior.
You remember when I talked about "active listening?" One of the things that we must do as followers of Christ is listen actively to HIM. We may not use the lot any more. But Bible study and sincere prayer will do much to transform our hearts from stony brokenness and anger and change them into hearts of love, hearts of faith.
To prepare for this simple meal, we have the privilege of singing together a new hymn, which has never before been sung in public worship, a hymn written by our own Ed Lyons. I hope as you prepare to receive the bread and wine, the body and blood, you will be able to do so with a humble and repentant heart, standing next to brothers and sisters who are bound together as one in Jesus Christ.
Now comes the hour when we meet
To gather in the banquet sweet
For those we serve, who can't repay,
Whose voices cry to you each day.
The world has tendered heavy cares
On those to whom Thy mercy shares.
We have abundance to delight
The hungry people day and night.
Then let us bow our heads in prayer
And so the sacred meal prepare
To link each one in heart and mind.
Now we shall love, we shall be kind.
As when we set our table good
To take Thy body and Thy blood,
We offer food and drink to those
Who Thou above the privileged chose.
Where Zion's holy waters flow
The lovely trees of healing grow.
Thy Spirit dwell with us that we
May come those blessed shores to see!
Text: Edward Lyons, III (2016)
 Tune: Puer Nobis (Adapted by Michael Praetorius, 1571-1621) Moravian Book of Worship, page 267
1. Rob Dreher: "Trump: Tribune Of Poor White People," The American Conservative Magazine, July 22, 2016 (more…)
I have a good friend who has announced that she is only watching Netflix movies until November 9th – she will no longer watch regular TV for the time being because she simply can't stand hearing one more political smear commercial. I think most of us are with her in spirit. We were warned that this would be one of the nastiest, most negative political seasons in living memory – and they weren't kidding! Many pundits have said that we are now as divided as before the Civil War – a warning that ought to get our attention.
There are all kinds of reasons why a person will vote for one candidate or the other. Christians of good faith and conscience do not agree on politics, sometimes simply because they see the world from such very different vantage points and personal experiences. Christians must take care to not let politicians divide us with anger and fear. Every election season, I recall the advice of John Wesley, the founder of the Methodist Church, back in 1774:
I met those of our society who had votes in the ensuing election, and advised them:
1. To vote, without fee or reward, for the person they judged most worthy:
2. To speak no evil of the person they voted against: And,
3. To take care their spirits were not sharpened against those that voted on the other side.
Good advice even if it is 242 years old!
The fact is that after the election, things will not return to "normal." In many ways, no matter who wins one office or another, nearly half our friends and relatives will be angry and disappointed and hostile. That's the moment when our work as followers of Christ kicks in to high gear – to reach out in a spirit of reconciliation, to show that our spirits were not "sharpened against those that voted on the other side," and focus with relentless energy on sharing the love of Christ.
There are many in our world that will stop at nothing to divide the followers of Christ, to set us against one another instead of working together to build the kingdom. Moravians have a great calling to model loving Christian community in a world that doesn't see anything remotely like it! I pray that we will work towards that creative, healing goal with the same energy that the world puts into division and destruction!
- Pastor John
Where is Your Treasure?" is a sermon on Luke 12:32-48 preached by the Rev. John P. Jackman on Sunday, August 7, 2016 – Trinity Moravian Church
Last week, we thought about what happens when some terrible tragedy or unexpected news or massive change slices though our lives – and changes everything.  Changes all our plans.  Last week we heard Jesus' parable about the wealthy man who had a bumper crop.  He thought he would pull down his crowded, too-small barns, build newer, bigger ones to hold all the bounty.  But he did not know that he was to be called home that very night.  All of that work, all of the possessions, the wealth, the riches, all that stuff would be someone else's.
And that's really the reality of life – and in fact, this week we understand a little bit more, Jesus continues this lesson, and in fact, He tells us to be ready, to be prepared, but most of all to be paying attention!  Something most of us don't do well with.
We have some wonderful children here, and I'm happy to say, some more coming along soon!  When you're a young parent, all the old folks tell you to "pay attention."  When our kids were born, everyone told us that – "It goes so fast –as soon as you blink an eye, they'll be in college!"  And like all young parents, we thought, "What a dumb thing to say!"  Time sure didn't seem to "fly by" when there were the long nights when the baby wouldn't sleep and when changing the six thousandth diaper of the week.  It seems to drag out forever – it doesn't seem to pass very fast.  But before long, you're joining the people saying "pay attention, because it goes by so fast!"
When our Abby was little, we always talked about keeping a diary of the things that she said.  Because she uses words in a very creative way – we called them "Abbyisms." She still does this.  We never got around to keeping a diary, but we wish we did, because now, twenty-two years later, it's hard to recall some of the amazing and funny things she said, things that at the time caused us to roar with laughter.
One of the great wise men of our times,  Dr. Seuss writes,
How did it get so late so soon,
It's night before it's afternoon.
December is here before it's June.
My goodness how the time has flewn.
How did it get so late so soon?
You know at some point, we can all relate to that.  Life is really too short to waste.  But we live in a world that encourages us to waste it.  Not to pay attention to the things that are truly valuable.  Life is really too short to waste on computer solitaire or pointless game shows.  It's too short to waste eating bad microwave pizza that tastes horrid but only takes seconds to heat, too short to read bad novels and watch bad movies (except of course the ones that are SO bad they become entertaining!).  Life is far too short to have the most perfect lawn on the block or the cleanest gutters.  Is that really the most important thing in our lives?
One of the things that Western Christians, especially American Christians, could learn from Eastern religions – I ought to piggyback on that here that we shcould learn this from most of the great Christian contemplative mystics as well – is to BE IN THE MOMENT, to pay attention to what is happening right now.  In our culture, too many of us get caught up in planning what we will be doing next week, worrying about something we cannot now change three weeks in the past.  And we live life completely distracted, not paying attention.  And we let those wonderful moments that God has given us flit by without noticing.  We don't take the time to write those wonderful things in a journal so that we can recall it later.
We don't take the time to pay attention.  That's what Jesus is saying to us – PAY ATTENTION.  That has to do with the conversion of our minds from one that is obsessed with "I want, I want, I want," and "I regret, I regret, I regret" to one that is calm and assured of grace, and able to focus on what God is giving us right this moment.
What could we accomplish if we were truly assured of grace, confident of grace, resting in the grace of God?  Instead of wallowing in guilt or trying to prove ourselves or earn grace, we could be spending our energies on loving others! Has anyone ever really tried it?
The great reformer Martin Luther wrote that each Christian had to go through three conversions. First is the conversion of the HEART, to feel closer to God; the second is the conversion of the MIND, so that your thoughts reflect God's love; and the third is the conversion of the PURSE. What Jesus is talking about this morning is paying attention, and placing our treasure in the right place. Not misplacing our hearts and our treasure at the same time.  The conversion of the purse is about that moment when we begin to use our gifts and resources in the way that God would use them, rather than ion the way that some advertiser wants you to use them – to misuse them.  We've got a lot of distractions this way in our society, our society is really built on tempting us to misuse our resources.  Pushing things that we don't need, distracting us with entertainment that we don't need, and really isn't good for us.
There was an article was written a while ago about the health effects of our passive lethargic video game culture, and the title of that was Entertained to Death – came out of a study that indicated that the next generation will be the first that will have a shorter life span than their parents,  because of our many misdirected habits.
We have to pay attention to life.  Of course, when we do that, we find there are gems in the moments of every day, moments to savor and remember and value – moments which very often we miss completely, whizzing on by in our distractions.
There was another article published a few years ago that intrigued me.  It pulled together several studies about happiness, and found that (contrary to what we've thought), money CAN buy happiness – just not the way we usually try to do it.  What they found was that people who take their treasure, and use it to create experiences rather than buying things with the money, were happier overall, had stronger relationships with family and friends.  To buy experiences with money instead of things!
In rereading that article, I started to look around the house and think about the stuff we have.  We've got a lot of stuff, we need to get rid of a lot of it.  Maybe you're in the same boat.  But as I looked around the house, I noticed that a great many of the things we've kept have stories attached to them.  Don't you find that some trivial souvenir from a trip with your children is far more meaningful – because of the memories – than some very valuable or exquisite thing that you bought.
One of the things I've noticed over the years is that often the world has things really backward.   The things they tell you to do are NOT the things that will really build your life – both in relationship with others and in relation to God.  One of the things that has fascinated me over the years is to watch people going on mission work crews.  From a worldly point of view, this makes no sense at all.  A hard-working person takes a week of their valuable vacation, pays their own way to go — not to a resort — but to the smelly back end of some third world country, to work their rears off, sweat, and sleep in a the most uncomfortable bed they ever experienced.  But in helping others, there is great reward.  Over the years of organizing work crews, I hardly ever had a person come back who didn't sign up to go on another – and often many more.   And nearly all of them told me that they got more out of the experience than the people they were supposedly helping.
That's sure not what cruise companies want to sell you!  That's not what the world sells.
Paying attention – being in the moment – putting your treasure and your time where your heart is can change your life.
I like what Dr. Brett Younger, pastor of Plymouth Church in Brooklyn, NY has to say, I'm paraphrasing a little here:
Life is short, so live every day as if it were your last, because some day you'll be right.
Life is short, so wake up, stay alert, be prepared, light the lamps, get ready. Listen for the knock, answer the call, serve where you're sent.
Life is short, so do what you love to do and give it your best. Whether it's business or teaching or medicine, or the arts, give it you all.
 Life is short, so recognize that today is the only day you have, eat dessert first!
Life is short, so listen to the people you love, tell them how much they mean to you, visit someone else's mother in the nursing home.
Life is short, so forgive. Look past the faults of others just like you hope they will do for you.
Life is short, so be courageous, take a chance, live so that when your life flashes before your eyes, you'll have plenty to watch – and not a lot to regret.
Life is short, so celebrate God's eternity, make time for the things that matter, don't leave yourself regretting things you didn't do.
Life is short, so be an evangelist, tell a friend how God's love has changed your life, be a person who talks about Jesus.
AMEN.
Articles mentioned
Buy Experiences, Not Things
http://www.theatlantic.com/business/archive/2014/10/buy-experiences/381132/
Entertained to Death
http://www.forbes.com/sites/emilywillingham/2016/07/29/entertained-to-death-fresh-danger-from-the-netflix-binge/#134ced6c4d91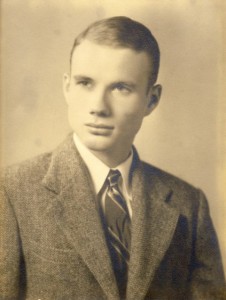 This month, we have the unique honor of welcoming home a member who has been absent for 64 years.  George LeTell Rights, the son of Rev. & Mrs. Douglas Rights, was an active member of Trinity when he went off to serve in the Army during the Korean War.  In September 1950, he was assigned to the 15th Field Artillery Battalion of the Second Division. In mid-February 1951, near Hoengsong, South Korea, his unit was involved in a battle later called "Massacre Valley." He was among those taken prisoner and marched into North Korea to a prisoner of war camp, referred to as the Suan Bean Camp. He died there in May 1951, the cause of death being listed as malnutrition.
George's death was a blow to the Rights family; his brother, the Rt. Rev Graham Rights, says that Trinity members ministered to their pastor during this time, comforting and supporting parents Douglas and Cecil.  The family had come to believe that George's remains would never be retrieved.  However, on July 8, his family was notified that remains of George had been positively identified via DNA among those turned over to the United States Government by the Government of North Korea in 1992.
A Moravian service will be held in God's Acre on Sunday, August 9, at 3:00 p.m. in the Cremains Section. The graveside service will feature a memoir written by sister Eleanor Rights Roller.
Winston-Salem Journal article about the funeral
George Rights grew up in the parsonage of Trinity Moravian Church, where his father served as pastor for 37 years; he remained a member there until his death. He loved classical music, listening daily to WQXR in New York. He was the first of the four Rights children to be taught by their father to play a band instrument, learning to play the cornet and participating in the Trinity Church Band and the Easter Band. He was the first of the four to take piano lessons from Helen Savage (later Mrs. Aaron Cornwall, Jr.), beginning as her "practice pupil" during her study at Salem College. He had particular fondness for the music of Frederic Chopin. He enjoyed caring for pet ducks and, during his teen years, was the family wood chopper, producing kindling for the wood stove and fireplaces. He spent several summers working with those who cared for God's Acre in Salem. George's favorite pastime was taking long walks really long walks. It wasn't unusual for him to leave Winston-Salem and walk to High Point, Mocksville, Pilot Mountain, Elkin, or North Wilkesboro.
We celebrate with the Rights family in the recovery of George's remains and the closure of holding this meaningful service.
– Pastor John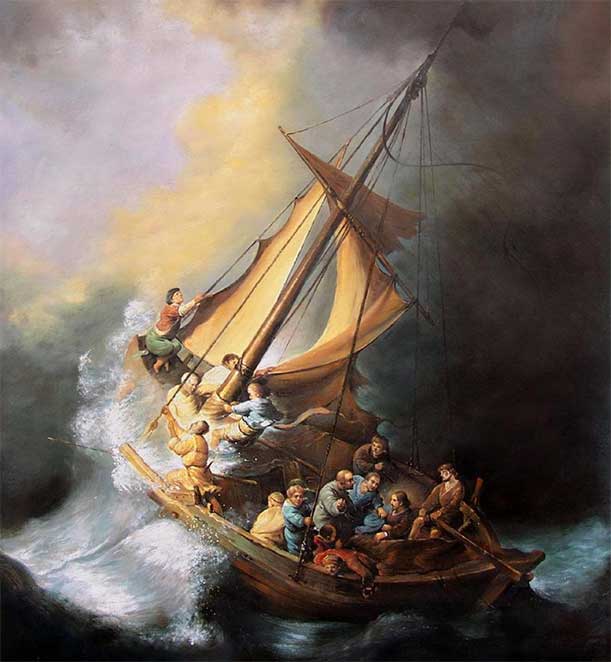 This sermon was preached on June 21, 2016 at a hastily arranged joint service between St Philips Moravian Church and Trinity Moravian Church on the Sunday following the killings at Emanuel AME Church in Charleston, SC.
2 Corinthians 6:1-13
Mark 4:35-41
This has been one of those weeks where every pastor says to themselves, "What shall I say?"  And as I looked over the service, I realized that the service we had planned, based on the prescribed lectionary readings, was uniquely appropriate for a time when we may be beset by fear.
You may have seen Rembrandt's painting of this story, the story of the calming of the sea.  It is an amazing painting, showing the wave-tossed boat, the waves, the storm clouds.  It was the only seascape he ever did.  What is interesting is that if you carefully count the people in the boat, you will find fourteen — the twelve disciples, Jesus, and Rembrandt himself.  Because he was making a statement, a statement that said, "I am in the boat fearful with the disciples."  Well, we are in the boat fearful today.  It is so hard to wrap our minds around the terrible events in Charleston this week.
Some of us pastors have been talking both in person and online about what to say today.  My dear brother Sam Gray, whom I always pay attention to, pointed out that in the first century they did not understand how the weather worked the way we do today.  Of course, they did not have Accuweather, they could not go on Weather.com and pull up the radar, they did not have our local weather caster Laney Pope to pop up and say "Big storm coming!"  They would have little notice, and had to pay prompt attention to the signs — the freshening wind, the change in temperature.  They thought that the storm essentially was the symptoms that they could see — the waves and the wind and the billowing clouds.   They did not understand scientifically that the thunder was the rapid expansion of superheated air around the lightning bolt, that the lightning bolt itself was caused by differential in electrical potential between the ground and the clouds.  But above all, they did not understand that all these symptoms were caused by a huge low pressure system.  A system much larger and more powerful than the symptoms they observed on the surface.
So too we look at the symptoms, we see the waves coming over the bow, we hear the thunder, we feel the wind, and we are scared of the symptoms.  We humans tend to do that.  We often confuse symptoms with causes and causes with symptoms.  A hundred years ago, doctors thought that the blood clots they would find in arteries during autopsy after a heart attack were caused by the heart attack — not the other way around.  Today we know that it is those blockages that cause the heart attack. Often the things we think of as incidental, as not mattering much, are actually the causes of the things we fear.
When we've had a week like this, when there is a terrible tragedy, it's sort of a litmus test.  There has been a lot of chatter this week, displaying the dividedness of our nation — what we say seems to depend more on our beliefs before the event than on the event itself.  And I've heard many comments this week about symptoms.
I've heard it said that the problem is there are too many guns in this country, too easy access to firearms.  Well, sure!  There are way too many guns in the hands of foolish and misguided people in this country.  It is too easy for an angry person to kill a bunch of people in seconds.  But in 1981, Michael MacDonald was lynched with a rope — a rope that could have been used to save a drowning person or pull a car out of a ditch, but instead was used to murder.  In 1965 at Selma, James Reeb was beaten and kicked to death, kicked to death with boots that could have been better used to march for good.
I've heard other people say that it's our mental health system that is a mess. Well, yes, our mental health system is terrible.  It's had cost-cutting go on year after year until it is eviscerated and crippled, it's had too many good ideas go awry. We don't have enough beds and counselors to deal with even a tiny fraction of the problem.  I can't even describe how broken that system is.  But we also know for a fact that the mentally ill are far more likely to be victims of violence rather than perpetrators.
We have people who say "Our country has gone away from God, we need more God, we need more Jesus."  Well, duh.  Sure, things would be better if everyone were to seriously try to live out the love of God.  But sometimes when I pick at that and pull at it a little bit, I find that what they are talking about is a white Jesus who apparently belongs to an exclusive country club.  And we don't need any more of THAT Jesus, we need the Jesus of the Gospels who loved the outcast and reached out to all who were hurting and needed His love. That's the Jesus we need.
And so we focus on one symptom or another, depending on what we already thought a week ago.   And we say well, that's the "cause" of all of this — but no, I think the cause is like the storm – it's a huge system behind the symptoms that we can't see and we don't like to talk about and we don't like to acknowledge.  A big powerful system of hatred and racism and malice.  And we like to pretend that it doesn't exist anymore — but it does.
My friends, I will state it as plain as day:  this young man said clearly that he committed these horrific murders of entirely innocent people BECAUSE THEY WERE BLACK.  No other reason.  Racist hatred had taken him to a place of darkness that I hope we don't understand.
And God save us all, he sat there in that meeting and thought "maybe I won't go through with it because these people are so nice."  Can there be any more specific definition of evil than someone who would have those doubts and yet still pull out the gun and shoot people who had been kind to him?
It's easy for us to look at the symptoms and say "that's the cause" and then say, "It has nothing to do with me."  But it does have something to do with us.  It has something to do with every one of us on both sides.
Those who were killed included four pastors, one retired, a track coach, a choir member, an elderly aunt, a college student who was her nephew and who stood between her and the bullet.  We are those pastors, we are that choir member, that coach, that aunt, that nephew.  But we are also the perpetrator.  For every one of us has participated in that system of oppression, that judgment and condemnation.  Even when we try hard, we fail, we move forward and we slip back.  When we look the other way, when we laugh even uncomfortably at terrible jokes, when we passively accept the wrongs that are perpetrated, we are part of that big system that produced Dylann Roof.
I am so glad that we can come together today and enjoy one another, and celebrate our oneness in Christ, our love for one another.  But the question is what are we going to do now? We need to move forwards with this.  We need to move forward in embracing on another in love.  We need to go ahead and stand against racism and hatred whenever we encounter it in our lives.  And I mean right down to when someone tells a hurtful joke in our presence, a joke that tears at the humanity of people of color or of a different religion.  We need to leave the room, we need to call out the joke-teller and challenge the casual racism that pervades our society.  It's time for us to have the courage to do what we know in our hearts to be right.  We need to love like Jesus loved, fiercely and fearlessly.
Originally, I was planning to preach on the passage from 2 Corinthians this morning.  But that also is so appropriate for today!  Paul mentions the endurance of the disciples through afflictions and hardships, through calamities, beatings, imprisonment, riots, sleepless nights, hunger, that they had gone through to bring the love of God to other people.  They suffered for the Gospel.  And they participated in the suffering and death of Jesus Christ to bring love to others.  And he says "TODAY is the day, now is the acceptable time; behold, today is the day of salvation."  And today IS the day to start, the day to take action.  Not tomorrow, not next week, not when we get around to it.   And he goes on, "We put no obstacle in anyone's way."  What obstacles do WE put in the way of others in living out their faith, in discovering God's love?  How do we put that off and interfere with the progress that God desires for others?  We have been through many years of the remarkable phrase that our Supreme Court invented, "all deliberate speed," which basically means to make haste slowly.  And we have turned that into deliberate foot-dragging.  But God tells us TODAY is the day.  Not tomorrow, not in a week, not in a few years, not in ten or twenty years.  TODAY.  Now is the acceptable time.  Here we stand fifty years after Selma and while some people would say there's been a lot of progress,  I'll stand up here and tell you that we have not made nearly enough progress.  Still today, it is far too easy to be arrested or harassed when your only crime is breathing while brown or black, being in the wrong neighborhood when you are a person of color.  Still today our society is divided, still today the effects of racism and slavery ring on in our culture.
Now I should mention something that is rarely referenced — blacks aren't the only ones who have been enslaved in our history.  There was a period in the 1600s when boatloads of Irish were shipped over as slaves in conditions not too different from those experienced by Africans.  Even later on the system of indentured servitude came awfully close to slavery when it was abused, when tricks were used to keep servants in debt so that they could never buy their way out of what amounted to slavery.  Much of our early prosperity arose on the backs of exploited and abused people, a system of owning human beings.  When the Moravian Church in Salem during the eighteenth century made that terrible choice to purchase a human being, we took a giant step back from our ideals and our calling.  It doesn't matter that the church treated slaves better than anyone else, it was a betrayal of our very beliefs.  In 2006 our Synod voted to apologize for our participation in slavery.  But it took us over two hundred years to do the right thing, and in the meantime there were many other ways in which we fell short of the very beliefs that we espoused and preached.
There are many ways in which our culture has sought to keep different people down, economically and in other ways.  The people who can end racism are those of us with light skin, those who have inherited the prosperity of the past that was created on the backs of slaves.  We're the only ones who can really put an end to it.   People of color have been demanding it for years.  It is the rest of us who have to get on board.
Sociologists tell us that as we do make progress, those who feel their power and privilege slipping away from them will become anxious and will lash out.  That's what was going on this last week.  And so it seems that every time we take two steps forward, we take one back.  This last week one hatred-filled young man tried to make us take a step back.  But we must not let hatred win, we must instead take two steps forward, and if God is willing, THREE!  We will persevere, we will move forward.  Let "deliberate speed" now mean that we move forward with a deliberation and determination that cannot be sidelined, that cannot be diverted, not letting anything  – ANYTHING — distract us or dissuade us.  The course of history shall still bend towards justice — and together we will march in that direction.
-          Pastor John
I'm excited that we are moving forward with the much-needed renovation of the Reich Fellowship Hall!  Aside from our sanctuary, this is the most-used space in our building.  It is used for congregational dinners, meetings, fundraisers, movie screenings, neighborhood programs, and provincial programs.  Equipped with a stage, a 12' wide projection screen, a 4,000 Lumen High-Definition projector, and Dolby® Surround Sound system, handicap access, and a convenient parking lot, Reich Hall has become the "go-to" location for training programs for the Board of Cooperative Ministries, provincial meetings, Sunday School classes, regular Red Cross blood drives, and meetings of the Moravian Ministry Association, which meets there every month.  The facility is often home for neighborhood programs offered by Anthony's Plot, the Moravian Intentional Community that is on our campus and working in our neighborhood.  We are planning to start a new after-school program next fall which will also use this hall.
The most urgent need, of course, is the leaking roof – but also urgently needed is new carpet to replace the raveling and stained carpet and replacement of the ageing fluorescent lights (which are beyond their expected lifespan)with new, energy-saving LED lights.
We have applied for a grant which, if awarded, will pay half the anticipated $56,910.00 cost – but we must raise the other half, or $28,455.00 in the next few months.  Will you help?  Will you help renovate this wonderful facility, which will benefit our congregation, the neighborhood, and the entire Southern Province?
-          Pastor John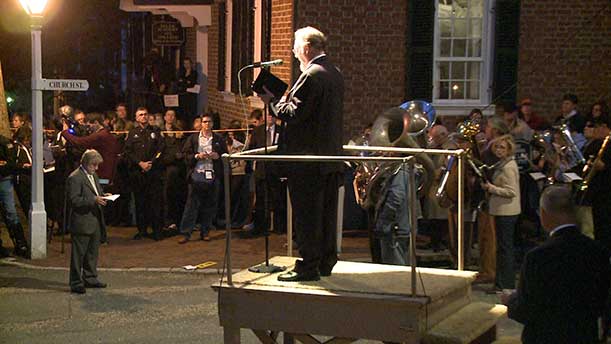 Easter, 2011 – "The Lord is Risen!"
Moravians in particular are known as the "Easter people." We celebrate the Resurrection in our unique and meaningful gathering at dawn in the sacred silence of God's Acre, the silence broken by the music of birds and gathering brass.  But if you are feeling more empty than full this year, if you are feeling used up and beaten down, perhaps that is because the resurrection needs to happen in you as well.  Christian Rossetti (1830-1894) writes in her profound poem "A Better Resurrection:"
I have no wit, no words, no tears;
My heart within me like a stone
Is numb'd too much for hopes or fears;
Look right, look left, I dwell alone;
I lift mine eyes, but dimm'd with grief
No everlasting hills I see;
My life is in the falling leaf:
O Jesus, quicken me.
My life is like a faded leaf,
My harvest dwindled to a husk:
Truly my life is void and brief
And tedious in the barren dusk;
My life is like a frozen thing,
No bud nor greenness can I see:
Yet rise it shall—the sap of Spring;
O Jesus, rise in me.
My life is like a broken bowl,
A broken bowl that cannot hold
One drop of water for my soul
Or cordial in the searching cold;
Cast in the fire the perish'd thing;
Melt and remould it, till it be
A royal cup for Him, my King:
O Jesus, drink of me.
The resurrection is not just something that happened to Jesus at a specific point in history, and that we now remember.  It is something that happens in us now, today, this moment.   How does this resurrected Jesus change your life today?
- Pastor John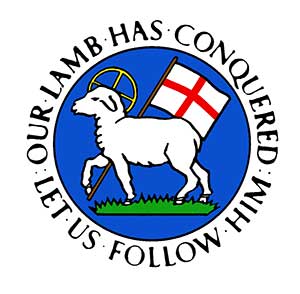 March 1, 1457 is the day recognized as the official date of the organization of the Unitas Fratrum, the Unity of Brethren – so this month actually marks the 558th anniversary of the Moravian Church.  This was sixty years before Martin Luther nailed his 95 Theses to the door of Wittenburg Cathedral;  and over seventy-five years before the Church of England separated from Rome.  Many historians now refer to the Hussite movement as the "First Reformation," and recognize that there was in fact a strong and organized reform movement in place before Luther and Henry VIII were even born.  The movement had an enormous impact on the life and worship of central Europe, much of which was wiped out in subsequent wars and swept under the carpet when the area later became Roman Catholic.  This is not a "big" anniversary year of the founding – but it is the 600th anniversary of the evnt that led to the founding – the martyrdom of John Hus.  We'll be hearing a lot more about him as we get closer to that July 6th anniversary.
Ours was a church born out of struggle and war — that then sought a way to peace.  Following Hus' martyrdom in 1415, his followers in Moravian and Bohemia rose up against the Roman Catholic armies, and a period known as the Hussite Wars began that ravaged the area. There were initially a number of different Hussite groups with varying and sometimes competing ideas; but as war raged on and these groups competed, eventually a variety of Hussites came together to found the Unitas Fratrum or Unity of Brethren.  
Through five hundred and fifty-eight years, the Church has seen a lot of changes.  The Unitas Fratrum almost died out  (some historians feel it actually did die out) in the 17th century during the time of Comenius and the Thirty Years' War.  It was reorganized by that legendary band of settlers on Zinzendorf's lands in 1727, and that movement defines many of the traditions and practices that we so love today. 
But through all those years and changes there have been some important constants: the centrality of Christ, the compassion and love of God, the incredible grace that is extended to us, and an emphasis on looking back to Apostolic Christianity rather than the institutional pronouncements of Rome.  The idea that there are really only a few "essentials" and that other differences should not divide Christians has been an important constant; so too is the idea that it is essential that we live lives that express Christ's love.  Indeed, the early members of the Unity referred to themselves as "Brethren of the Law," the law of love.  It has to be said that we have not always lived up to this great tradition, sometimes getting more caught up in the external non-essentials. 
But when we are at our best, we have a peculiar role to play in a divided and hostile world:  to remind the world of the love of Christ, and to live out the rich heritage of faith that proclaims:
In essentials, UNITY
In non-essentials, LIBERTY
In all things, LOVE.
-          Pastor John
It was interesting a couple of years ago to look back at what life was like in 1912, when this church was founded.  As I sat down to write this message, I wondered what was going on a hundred years ago now.
World War I (known then as "The Great War" and "The War to End All Wars" had started in Europe, but America had not yet gotten fully involved.
D. W. Griffith held the first screening of "Birth of A Nation."
First transcontinental phone call from New York to San Francisco.
Congress voted down a proposal to allow women to vote – it would take another four years!
The Ford Motor Company manufactured the millionth Model T, revolutionizing travel in America.
And while all these things were going on, the congregation on the corner of Sunnyside & Sprague was actively ministering to a growing neighborhood, reaching out with community events and programs,  helping those in need and preaching the Gospel.
Today, we don't have brand new Ford Model Ts driving by the church; it's more likely to be a Toyota.  Instead of calling from New York to San Francisco on a wire, we can take a little gizmo out of our pocket while walking down Sprague Street and call Germany or Japan, get the weather in Timbuktu, and download documents from China.  Women can not only vote, but they may decide elections since they turn out at higher rates than men!  We're not watching silent movies filled with racism like "Birth of a Nation," we will be showing "Selma" and discussing ways to move forward with racial reconciliation in this new century.
Lots has changed – but some things haven't.  The bell at Trinity will ring to announce Sunday School and worship, we'll be holding programs to actively minister to the neighborhood, we'll be supporting one another as brothers and sisters in Christ, and living out the Gospel of love as Christ makes us able!
-          Pastor John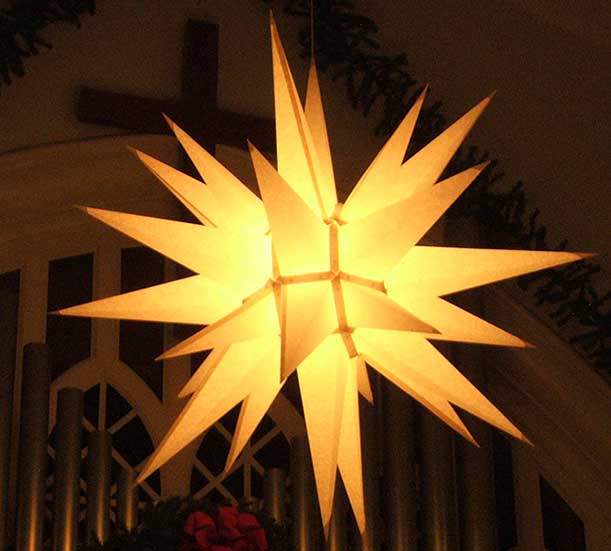 Moravians sure know how to do Christmas!  But did you know that the Moravian Christmas celebrations in Bethlehem and Salem were regarded with suspicion by other religious folk of the day?  In fact, Puritans had outlawed the observance of Christmas in the early colonies, viewing it as a "Popish," or Catholic, holiday filled with sin and excess?  In fact, Puritan laws forbidding Christmas were not repealed until 1681, and during the 18th century most religious folks did little if anything to observe Christmas.  Christmas did not become an official holiday in America until 1870.
Bethlehem, Pennsylvania was named by Count Zinzendorf of Christmas Eve, 1742, to recall the village of Jesus' birth.  Moravians saw the incarnation of Jesus as a pivotal event that changed all of human history, and they thought that the love of God expressed in Jesus' birth should infuse all of life and practice and faith.  They had no problem with rejoicing and celebration to honor the birth of the Savior.  So they went right on having their Christmas services and pretty much ignored what everyone else thought.  When the practice of sharing lit beeswax candles with the children began in Germany on Christmas Eve, 1747, the Moravians in Bethlehem adopted the celebration right away the very next Christmas Eve.  When Salem was founded, the Candle service was a beloved tradition, though back then the candles were only given to the children of the congregation.
Like those faithful Moravians of old, we can celebrate our faith in Jesus Christ without worry or concern about what the rest of the world does.  Don't get caught up in "Christmas wars" or outdoing the neighbors with your Christmas display.  In fact, it might be a good idea to cut back on some of the worldly trapping of the season and focus more time and energy on being with your family and creating new memories.  Try an Advent calendar with your grandchildren!  Take them to see the Putz in Salem.  Explain to them what Christmas means for your faith.  Set aside time to do something nice for a person who has not been nice to you.  Instead of watching a movie of Dickens' Christmas Carol, get the book and read it aloud to your children, pretending to be the various characters.  It's a lot of fun, and an experience your kids won't forget.
These things which bring meaning to Christmas and build memories don't cost much at all, but they have spiritual impact that will outlive this year's hot toy or soon-forgotten video game.  This year, invite a family in your neighborhood to one of the Christmas Eve Lovefeasts – there are many Winston-Salem residents who have heard about the Candle Lovefeast but never experienced it.
May the light of Christ's love, glowing from stars and candles and faces, illuminate your life this year!
-Pastor John
PastorJohn's RSS Feed