PastorJohn
This user hasn't shared any profile information
Home page: http://www.trinitymoravian.org
Posts by PastorJohn
On Sunday, November 2 we will hold our annual Church Council meeting.  At this meeting, we have a report from the Board and we usually elect new Board members.  This year, however, we will be considering a change to our Rules & Regulations to change to a single, smaller Church Board.
There are a number of reasons for this proposed change, which comes from the Board members themselves.  We have had increasing difficulty finding good candidates who are able to serve for the four year term, especially when we must also have candidates for Central Board (a six year term) and RCC representation (a two year term).  In emphasizing communication between the boards, we generally hold a Joint Board meeting every month, and about half the meeting usually involves reporting what each board is doing.  It is felt that the smaller, single board will be able to be more nimble and effective.
Of course, the Southern Province has reorganized and trimmed bureaucracy also to be more efficient.  Other congregations have either reduced the size of their boards, or converted to the single-board structure.  In most cases, they have had a good experience with the change.  All the current responsibilities of the Trustees, Elders, and Joint Board will be covered by the new, smaller board through the designation of committees and short-term task forces.
As Pastor (and thus chair of the Board of Elders and Joint Board) I feel that the church can operate effectively with either structure.  The smaller board will need to depend upon the help of non-elected members to help with committees and task forces.  You can read the proposal inside this newsletter (see page X); feel free to speak to any current board member or me if you have questions about the proposal.  Changes to the Rules & Regulations require a 2/3 majority of those voting at Church Council.  Should the proposal be approved and adopted, an enabling resolution will also be required to provide a transition to the smaller membership.  In that case, there will be no elections this year for Board.
It is important that we have as full a representation of our active membership at Council as is possible.  That means we need YOU to be there!  A full copy of the Rules & Regulations as they would be revised is available to any church member from the Church Office.
- Pastor John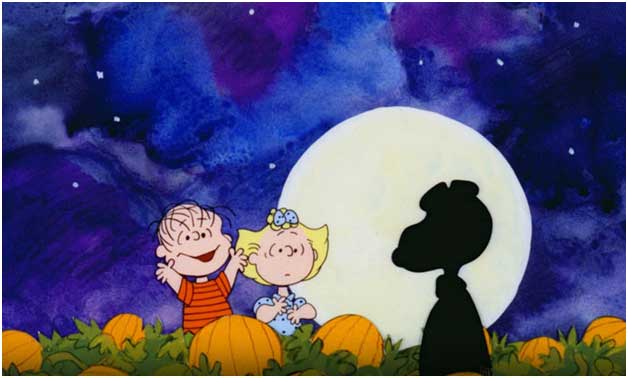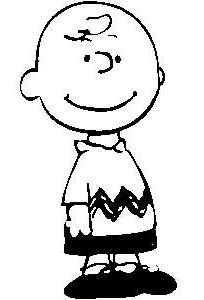 On October 2, 1950, a new comic strip debuted in funny pages across the country – drawn by a young artist named Charles M. Schulz, the strip was called "Peanuts." It was very different from other comics of the day, such as The Katzenjammer Kids, Nancy, or the yet-to-debut Dennis the Menace. All of them depended on children's relationships with grownups for their story and gags. Shulz' strip was only about the children, and their relationships with one another. When asked why there were no adults in Peanuts, Shulz responded "the daily strip is only an inch and a half high, and they wouldn't have room to stand up!" Actually, he felt that the adults would intrude in a world where they could only be uncomfortable. "In earlier days I experimented with off-stage voices, but soon abandoned this as it was not only impractical but actually clumsy," he said in a 1975 interview. "Instead, I have developed a cast of off-stage adults who are talked about but never seen or heard."
The other thing that was distinctive about Peanuts was Schulz' use of theology – Linus quotes the Gospel of Luke from memory, Charlie Brown confronts deep metaphysical questions while playing baseball, Pig Pen carries dirt from Bible times. The deep issues of life run through Peanuts, in the conversations of children. Robert L. Short even published a book called The Theology of Peanuts, which has had huge popularity. Through his pen-and-ink characters, Schulz has touched many lives. Many of us will watch It's the Great Pumpkin, Charlie Brown on TV this month, a show where Schulz pokes gentle fun at unquestioning faith. Shultz was a Minnesota Lutheran, who was active for a while in the Church of God and later taught Sunday School in a Methodist Church. He would have been a good Moravian, for he wrestled with faith and resisted the easy answers. His wife Jean said that "he wanted to know what those passages really meant — his discussions with priests and ministers were so interesting because he wanted to find out what these people (who he thought were more educated than he) thought." She continued, "When he taught Sunday school, he would never tell people what to believe. God was very important to him, but in a very deep way, in a very mysterious way." He was a contributing founder of the "Fellowship of Merry Christians," a group I belong to that seeks to bring humor to worship.
The thing that Peanuts has always reminded me of is the fact that our children have a whole social life – and spiritual life – that exists apart from us, their parents. Peanuts helps us remember that they too are wrestling with the great questions of life – of good and evil, of right and wrong, of meaning and meaninglessness. When we dismiss their childlike questions or ignore their need for understanding, we do a terrible thing – for the answers (or lack of answers) that start growing when we are children are the foundation for the answers (or lack of them) that we may experience as adults. We want our children to be a part of worship, to ask hard questions, to know about suffering and service and grace. The children's sermon in our worship isn't there to entertain the adults – it's there for the children themselves. We cook and clean and plan and organize LOGOS not because none of us have anything else to do every Wednesday – we do it because we love the children of our church and neighborhood and want to give them the best foundation they can have to live life.
Shortly after Schulz's passing in 2000, Peanuts was reported to be printed in 2,600 newspapers in 75 countries in 21 languages. Through pen and ink, and inquisitive mind, and simple drawings, Schulz brought comfort and challenge in a special gentle way to millions – and reminded us that our children aren't just toy consumers. They are spiritual beings, children of God, wrestling with the same things we face as adults.
-Pastor John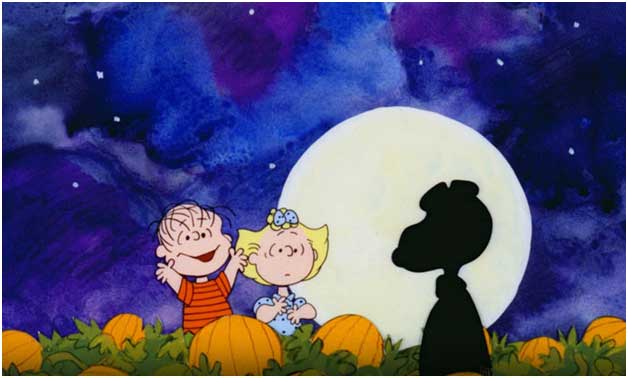 From It's the Great Pumpkin, Charlie Brown! ©1966 CBS, publicity frame used with permission.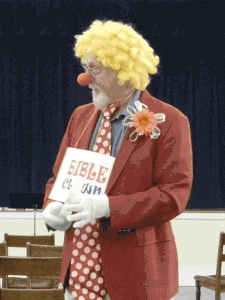 What a wonderful summer! August was a month of bubbling activity on our block and among the churches of the Salem Creek RCC! We started the month with our group of churches holding a joint Vacation Bible School, which was hosted by Trinity and Home Churches. Volunteers from Home, Messiah, St Philips, and Trinity helped make activities for all ages come to life as we studied the Bible as a library of books — and we were proud to have the Trinity youth volunteer to sing the 66 books without missing one! The strangest feature of the VBS was a mysterious "Bible Clown" who showed up briefly at the start of each program. Little Ann Workman found him quite terrifying. Several children noticed that they never saw Bible Clown and Pastor John in the same room at the same time – hmmmm!
Many of our members contributed school supplies to assemble the backpacks that were given away at the Anthony's Plot block party, which had the theme "All Things Good in Our Neighborhood!" That block party was a smashing success, with almost 450 attending. Many Trinity members were present as volunteers, making the day happen smoothly.
The next day, August 17, the Salem Creek RCC sponsored a Children's Festival at Bethabara Church, a celebration of the "children's renewal" of 1727. Families from many outlying churches drove in to spend the afternoon at Bethabara park, enjoying games and crafts, and finally a wonderful children's lovefeast in the sanctuary of Bethabara Church. Many Trinity youth were involved in serving the lovefeast, and the Trinity Puppeteers helped to present the story of the day, under the leadership of Jeannie & Tripp May! One of the puppets looked suspiciously like it might have had Carter Gentle's hand guiding it. Pastor John, Doug Rights, Bishop Sam Gray, and Thomas Baucom led the singing during the lovefeast with guitars and Bishop Sam's unique "wheelie keyboard!"
On August 18, the wonderful Trinity Zimmer-Lewtak pipe organ was featured in the "Sounds of Summer" organ series. We had over 160 people attend on a rainy Monday night to hear the concert — a great turnout!
The month closed with a special Vacation Bible School at St. Philips Church, specially designed to coincide with the week that the school lunch program is on hiatus. Volunteers from of group of churches came together to have a wonderful program for school-age children in the Bon Air and surrounding neighborhoods. Many folks contributed food, and in addition to joyous activities, the children had a hot lunch every day – which many of them would not have had without our work!
My heartfelt thanks to all the people who put in many hours of volunteer work to make these events happen! You've touched many heart with grace, children with fun and Bible stories, and fed some very hungry tummies! This was the busiest August I remember for many years, and it was fantastic!
- Pastor John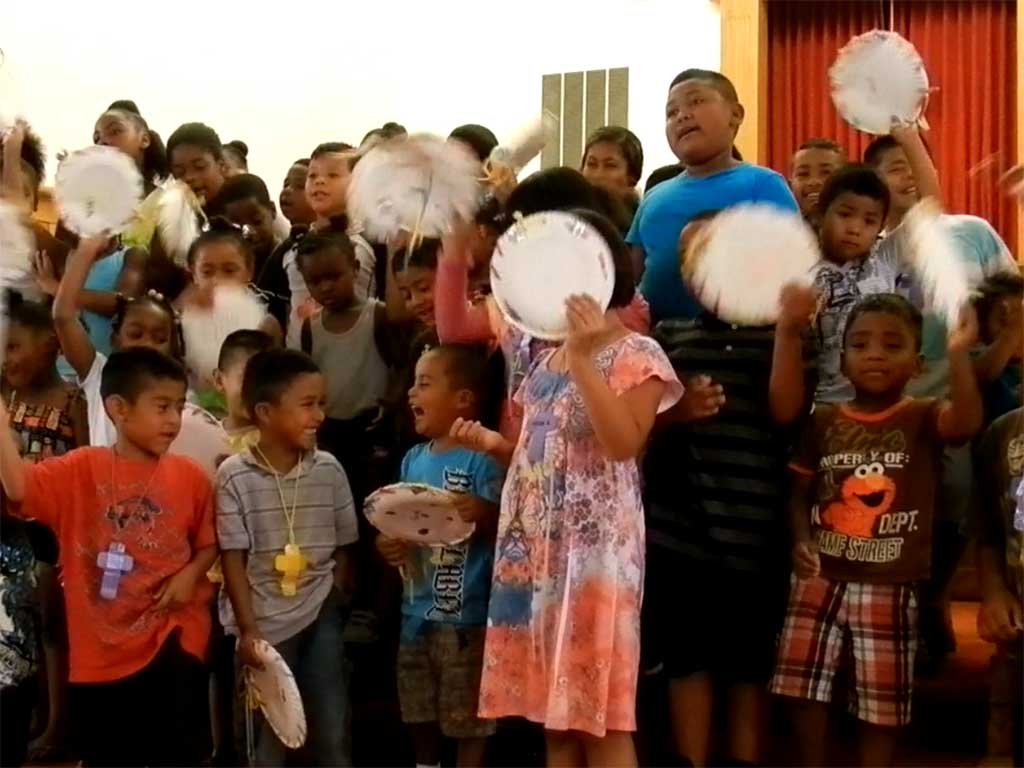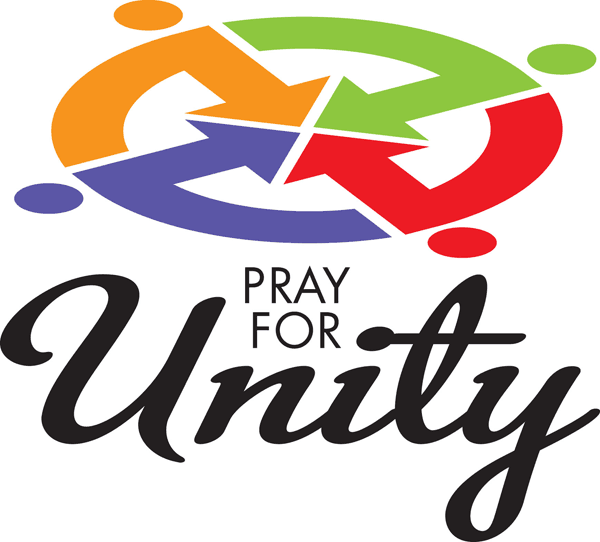 Today is August 13, a date that has no special meaning for most people, but has unique importance for Moravians.  This is the anniversary of the renewal of the Moravian Church in Herrnhut, Germany in 1727.  The church, founded in 1457, had been nearly destroyed by the Thirty Years' War, and the church was outlawed in Bohemia and Moravia.  A small remnant – what Moravian Bishop John Amos Comenius earlier called a "hidden seed" – migrated to the land of a Lutheran noble, Count Nicholas Ludwig von Zinzendorf.  Zinzendorf, a unique spiritual genius, permitted the "Herrnhuters" remarkable religious liberty for the day, but with the unfortunate (and perhaps predictable) result that religious excess and controversy exploded in the village.
The Count resigned his court position in Dresden to become a noble pastor to the troubled group, visiting and calling the people together for prayerful study of the Scriptures.  During this period, the residents became convicted that their behavior toward one another had been inexcusable – that the Savior called His followers to exhibit love toward one another, to be "one" in His name.  Out of this grew the remarkable document known in German as the "Bruderlisch Vertrag," the Brotherly Agreement, now known as the Moravian Covenant for Christian Living.  Rather than a doctrinal statement, the Moravians signed a code of Christian behavior.  This was signed on May 12, 1727 by all the residents of Herrnhut.  A few months later, at a special service of Holy Communion held on Wednesday, August 13, they experienced a powerful sense of the presence of the Holy Spirit – and those who had been divided felt truly one in Christ.  This reestablished the ancient call of the Unity – to live out the Great Commandment and the Beatitudes in community in a way that bore witness to the world of the love of God.  "By this everyone will know that you are my disciples, if you love one another." John 13:35, NIV.  This is a call that the Unity has sought to live out for over 557 years, since our founding in 1457.
In a recent online discussion about this, I made the (almost correct) statement that the Moravian Church is the only mainline denomination to have never experienced a schism or split.  I was properly corrected by someone who recalled that in the very early days, a group did split off over the issue of whether or not Brethren should swear oaths.  That group reunited with the Utraquists, a group that eventually died out.  But since that time, for over five centuries, we have worked to preserve Christian unity as a primary virtue and testimony to a religious world that is most often divided and bickering.  That testimony is respected out of all proportion to our tiny size by larger denominations, who often seek to learn from us how to achieve what we do.  Moravians have been pioneers in the ecumenical movement, calling denominations together in the name of Christ – and as a result, we have twice had Morvian clergy elected to head the World Council of Churches, and twice to head the National Council of Churches in Christ – despite the fact that we are one of the smallest member denominations.
So today we are faced with a decision: once again, as has happened in each generation, or probably each decade, we face a divisive issue that threatens to tear our unity apart.  We have people who believe that their issue is one that is so important, they must leave the Unity if a vote does not go their way.  Some of them want to form an "independent" Moravian Church, something which is really an oxymoron, since it overlooks the central tenet of being a part of the Unity – that is, to be part of the Unity!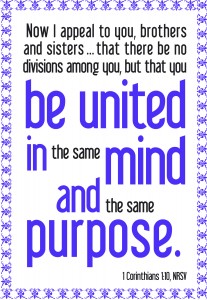 So once again, our unity is challenged – as it has been so many times before.  The Unity is a relationship – much like a marriage – which must be nurtured and maintained.  Just as in a Christian marriage two people commit to relationship with one another – each also in relationship with the Savior – so too we commit to a relationship with one another, each also in relationship with the Savior.  As in a marriage, we must overlook each other's shortcoming and bear one another's burdens, so it is in the Unity.  We live together as sisters and brothers in Christ, not always agreeing in detail, but always agreeing in love – and seeking to follow the Savior together.
We have a choice today – as the Herrnhutters had a choice 287 years ago, and as the founders of the Unity had a choice 270 years before that.  As indeed we have had again, again, and again: do we continue to bear witness that we are disciples, known by our love for one another?  Or shall our differences consume us so that we break this astounding witness?  We have a choice today, just as we will have a choice tomorrow: a choice to continue this witness of unity, or to destroy it and prove to the world that even the Moravians cannot live together in love.  Which shall it be?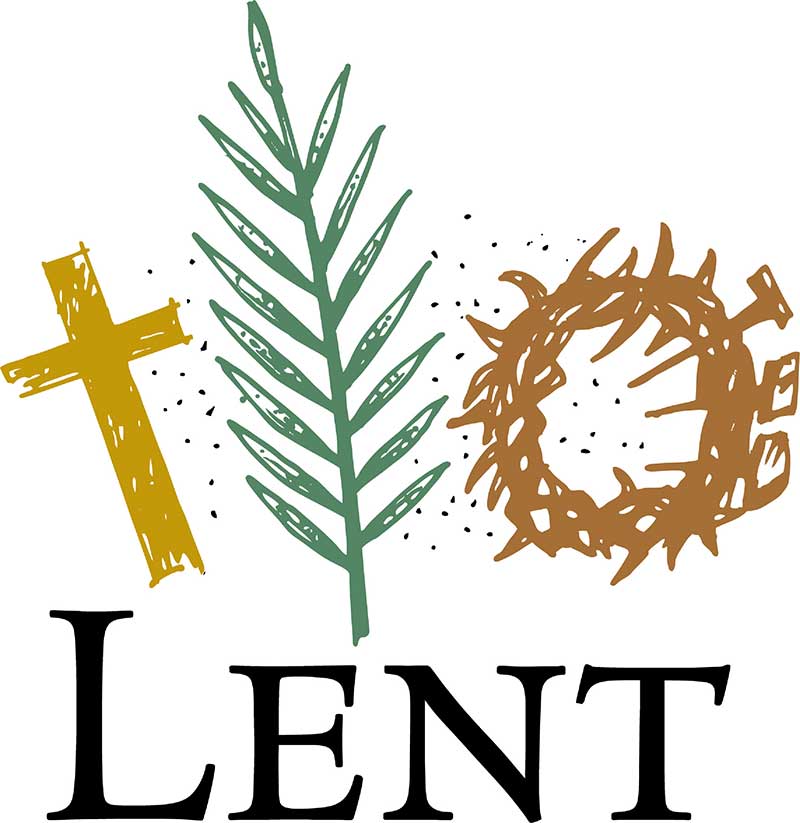 Wow, there is so much happening on the corner of Sunnyside & Sprague right now it is hard to keep it all straight!  As master organ builder Tomasz Lewtak completes the very major renovations on our organ, we also receive the first "hot-of-the-press" copies of Jonathan Sidden's magnificent anthem from the Moravian Music Foundation; we welcome a new Administrative Assistant, Gwen Scott, to our staff, and also student intern Katharine Thomas, who will help with program for the middle schoolers over the next few months.
The organ work will be completed in time for the first Sunday in Lent.  However, as our organist Daniel Johnson literally "pulls out the stops" and takes our newly-revoiced organ for an enthusiastic test drive, I suspect that some of our music in the next few Sundays may not be the traditional somber, quiet, and Lent-like!  That's all right!  Let the beautiful and shapely sounds that come from the pipes lift up our hearts in praise, that is always appropriate in worship!
After all, the idea of Lent is a season of preparation for Easter — preparation by prayer and the discipline of a little self-denial or extra service to others.  Though most people associate Lent with somber solemnity, Lent is actually supposed to be  a joyful season. The first Preface for the Catholic Mass in Lent actually makes the point elegantly:
Each year you give us this joyful season when we prepare to celebrate the paschal mystery with mind and heart renewed. You give us a spirit of loving reverence for you, our Father, and of willing service to our neighbor. As we recall the great events that gave us a new life in Christ, you bring to perfection within us the image of your Son.
How can we regard such a time with dour somberness?  Moravians are good at joyfully contemplating the Savior while also lifting up voices in song — accompanied by rich diapason notes and assertive trompette!  Maybe we'll save the Zimbelstern for Palm Sunday and Easter, however!
The Women's Fellowship have been busy baking those wonderful Moravian Chicken Pies, and are also preparing for our annual hosting of the Day of Prayer service on March 12, and for the complimentary luncheon that follows.  This is always a wonderful day of fellowship, this year the featured speaker will be attorney David Daggett.
I'm also glad to report that our cooperative ministry with Anthony's Plot and other area churches continues to be a bright spot for the city.  Many of our members have volunteered at the Emergency Overflow Shelter, and our youth have helped with meals and toiletry kits for some of the "least of these" in our community.  As the weather warms up, there will be less needs for these overflow shelters, but the need is still there — if you haven't yet volunteered, just talk to one of our members who has to hear what a life-altering experience it can be!  I cannot think of a more appropriate Lenten activity than setting aside a night to serve at the Shelter.
- Pastor John
It's 2 am, no sound except the quiet snores of nearly fifty people who have spent the entire day on the streets and have nowhere else to lay their heads.  But outside, it's 25 degrees and the "official" homeless shelters in our city are full.  So here, in the gym of First Baptist Church, we've distributed mattresses and blankets and pillows for a night of rest in safety and warmth.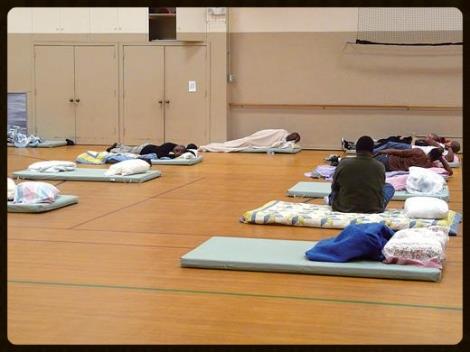 I'm spoiled, I don't sleep easily in strange places, I like my warm cushy bed and my down pillow.  So I'm up writing and thinking and praying.  These folks have little choice where they sleep, they are so tired that a thin mattress on a gym floor is something to be grateful for.  Before going to bed, many of them gathered in a prayer circle to share their thanks to God.
How many of the rest of us went to bed in our comfortable homes in warmth without a thought or nod of gratitude to the Maker?   How many of us went to bed complaining that there was nothing worth watching on our 500 channel cable TV, grousing that Leno was a rerun?
The people of God work together to meet the need.  We need two volunteers every night.  We need volunteers to donate food, donate toiletry kits.  The wonderful middle school group in our church is putting together toiletry kits.  The senior highs have donated food bags.  There's something anyone can do.
Jesus said, when you did it to one of the least of these… you did it to me.
Can you help?  SIGN UP.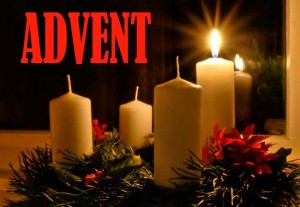 The day after Halloween, the Christmas decorations went up in many stores and the Christmas carols started.  Many eye rolls and groans about Thanksgiving being forgotten.  But our commercialized society has lost more than that – the juggernaut that is Christmas marketing has steamrollered over Advent, as well.  Liturgical churches like ours still observe Advent, and we're going to keep lighting those Advent candles no matter what the marketers outside do!
Advent is not Christmas – it is a four-Sunday time of preparation for Christmas, just as Lent is a time of preparation for Easter.  But our culture is not one of preparation, it is one of sales and marketing.  Let's move those flat-screen TVs and Chinese toys!  We live in a world of instant everything, we want to be able to move right to the punch line, cut to the chase!  But there is great spiritual value in slowing down, in preparing, in getting ready.
In days of yore, a young craftsperson had to be apprenticed to a master for a number of years to learn a trade.  During that time of preparation, the apprentice could make beginner's mistakes, learn from the experience of the master, and gradually gain expertise – until he or she became a "journeyman" and eventually a new master!  Our fables and stories seem to value this kind of learning, but when we look at the actions of our culture it is denigrated.  We want fast-track success, short-cut learning, speed dating, and instant everything.  We live in a schizophrenic culture that honors Dicken's Christmas Carol while at the same time iconizing our own cultural Scrooges!
I urge you to set aside the time this year to slow down, to prepare, to observe Advent even if everyone else has fast-forwarded to Christmas.  Seasons are good, honor and grow by celebrating this one!
-              Pastor John
A few weeks ago, we viewed a brief video as part of a sermon called "The Science of Happiness."  If you missed it, you can view the video HERE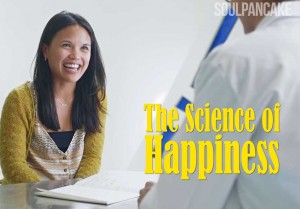 .  It showed in practical examples how those who expressed gratitude to others had measurable improvements in their mood and feelings.  The mental "attitude of gratitude" is something that affects those around us – and affects us internally.  It's not just a psychological fact, it is a spiritual reality.
Scripture is clear on calling us to express our gratitude to God, and to those around us who have positively impacted our lives.  Practicing acts of thanksgiving changes our outlook, makes us more hopeful and optimistic, and gives us the spiritual endurance to get over the inevitable potholes and speed bumps of life.  Of course, the reverse is also true: those who constantly complain, who focus on the rottenness of life and other people, will feel more depressed and have less ability to weather life's storms.
Some people dismiss this as a "Pollyanna" attitude.  But over my years as a pastor, I've seen time and time again people who discovered the gift of gratitude, began to apply it, and had their lives affected for the better.  Every day we have choices; we can choose to be grateful and focus on our blessings, or be resentful and ruminate on the rottenness of life.
The fact that the medical impact of thankfulness can be corroborated scientifically is fascinating.  The scientists have all kinds of explanations for what happens:  our endorphin levels rise, stress hormones subside, and so on.  But I have a more fundamental explanation:  this is how God made us!  He intends us to be grateful, to express our gratitude, and to life psalms and songs of thanksgiving to Him!  When we do that, we are "in tune" with our Creator, consonant with His will, resonating with His purpose.  We feel better because we are better!
This month, as we gather together with neighbors and friends at our neighborhood Thanksgiving Eve Lovefeast, I hope you will take the opportunity to reach out and express your gratitude to someone else – and especially to our Savior!
-          Pastor John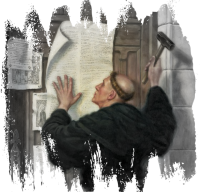 On October 31, 1517, a monk named Martin Luther posted a list of 95 complaints about the Roman church on the Wittenburg Church door.  Over a hundred years after the martyrdom of John Hus, Luther had rediscovered the same issues and arrived at virtually the same conclusions.  The Church, hand-in-glove with the State, was filled with corruption and abuse.  Indulgences (slips of paper that acted sort of like "Get Out Of Hell Free" cards) were sold at exorbitant prices to pay for an unpopular and never-ending war, and to finance the lavish lifestyle of the wealthy and powerful.  Anyone who opposed or even questioned the church was condemned as an heretic.
Now, I don't believe that things today are as bad as they were in the time of Hus or Luther.  Not by a long shot!  The cataclysmic struggles of the Hussite Wars and the subsequent Protestant-Catholic Wars decimated Europe and were times of terrible slaughter.  Today we face less violence and have a much higher standard of living.  In our capitalistic society, divisions end up being more about money and power – the "haves" versus the "have nots."
Five years after the collapse of Lehman Brothers and the tanking of our economy, income inequality in America has accelerated dramatically.  We've now hit an all-time high for income inequality in America, matching the era of the robber barons – and closing rapidly on the kind of inequality that exists in Third-World nations.  Being super-wealthy automatically brings with it power, access to power, and the ability to influence government policy to your advantage.  Both political parties are corrupted by this, and there seems to be no end to the change in policies that can be called "trickle-up economics."  This is an economy where policies and business practices are rigged to redistribute fair living wages away from workers and upward to those who already have more than they could spend in many lifetimes.
Article Link: Income Inequality Hits Gilded Age Levels, CBO Reports
Where is the church in all this? As we see more and more people lining up for shrinking resources at food banks, as we see children going hungry as programs are slashed, as we see the working poor being crushed by the weight of a society that clearly doesn't care about them, where is the church?  Where are the prophets speaking God's truth to power, the Isaiah who cries: "Learn to do right; seek justice. Defend the oppressed!"  Where is the Amos who calls out, "But let justice roll on like many waters, and righteousness like an ever-flowing river?"
Yes, we are called to minister to the less fortunate.  But is our responsibility limited to bringing in cans of food for Sunnyside Ministry?  Does our responsibility as Christians end with a bit of help here and there to get folks through emergencies?  Or does God also call us to wade into the difficult waters of advocacy, to call out those who abuse power to steal from the poor?  The Bible is clear on this!  Both the Old and New Testaments are radical in their defense of the poor and the weak against the wealthy and powerful.
It is time for a season of prayer – to be followed by a season of action.  Christians must shake off the shackles of politics, so easily exploited by pundits and inflammatory rhetoric, and stand up for the kind of justice that allows a space for everyone in society to simply live and thrive.  James writes:
Suppose a brother or a sister is without clothes and daily food. If one of you says to them, "Go in peace; keep warm and well fed," but does nothing about their physical needs, what good is it? In the same way, faith by itself, if it is not accompanied by action, is dead. -          James 2:15-16
There are many variations of the following story, sometimes called the Story of the River Babies.
One summer in the village, the people in the town gathered for a picnic. As they leisurely shared food and conversation, someone noticed a baby in the river, struggling and crying. The baby was going to drown!
Someone rushed to save the baby. Then, they noticed another screaming baby in the river, and they pulled that baby out. Soon, more babies were seen drowning in the river, and the townspeople were pulling them out as fast as they could. It took great effort, and they began to organize their activities in order to save the babies as they came down the river. As everyone else was busy in the rescue efforts to save the babies, two of the townspeople started to run away along the shore of the river.
"Where are you going?" shouted one of the rescuers. "We need you here to help us save these babies!"
"We are going upstream to stop whoever is throwing them in!"
Christians, we are called to go upstream and find those who are throwing the babies in the river!
- Pastor John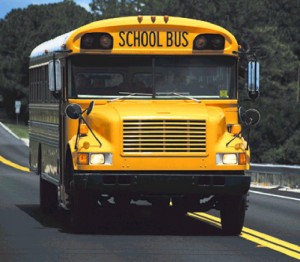 School time!  The buses are running, lunch ladies have snapped on their hairnets, the homeroom bell has rung.  In preparation for the start of school, we observed a special prayer day for Public Education with other Moravian churches, and lifted up prayers of blessing for teachers and administrators, for coaches, shop teachers, janitors and secretaries – all the people who work together to educate children.
In my sermon that day, however, I had to note the sad fact that as a state, North Carolina's education system has sunk rapidly in recent years.  It was announced in August in a national study that less than 1/5th of NC high school students were adequately prepared for either employment or a first year of college.  In fact, we came in dead last – 51 – after all the other states and the District of Columbia.  Teacher salaries have plummeted until we rank 46 – nearly at the bottom – for teacher salaries.  All this in an atmosphere where politicians continue to say that education is important.  But just as our personal budget shows our spiritual priorities, our State budget shows where the values really are, and they are shifted to corporate welfare and raises for political hacks.
Moravians have always been at the forefront of education; in the 15th century, while translating the Bible into the common language and teaching blacksmiths and farmers how to read; in the 17th century when Comenius transformed the fundamental ideas of education in Europe and called for universal education, including (gasp!) the education of women; in the 18th century when we started schools around the world, taught slaves how to read, and started Salem College, one of the only places in the colonies where a young woman could learn Latin and mathematics as well as sewing and cooking.  Many Moravians are active and excellent teachers in our school system, our community colleges, and universities.
We cannot stand by and wring our hands in silent helplessness while we see the education system we have some much invested in dismantled by bean-counters and misguided fundamentalists.  We need to advocate for change, for more support of great teachers, of programs that enhance life – music and drama and art – as well as science and technology.  We need to seek out and vote for leaders who will put children and the long-term future of everyone in our state first.  Party matters less than intergrity and vision!  We need to seek out opportunities to support our educators and our schools.
We will also be doing our part here on the corner of Sunnyside and Sprague – working with Anthony's Plot on a tutoring program for at-risk children, opening the doors for children to come to LOGOS and get a good meal, the warmth of God's love, and learn more about the Bible.  We'll continue to sponsor Scouting and other programs that enhance education beyond the school walls.  We'll be exploring starting ESL (English as a Second Language) and SSL (Spanish as a Second Language) classes for adults, and other learning opportunities as well.
For the teachers in our congregation, we give a cheer and lift up prayers of support.  Do your best for God and for His children!  Count on us for support  – whether box tops or bake sales.  But I pray for the day when our schools are fully funded — and they must have bake sales to support the prisons!
-          Pastor John
PastorJohn's RSS Feed