PastorJohn
This user hasn't shared any profile information
Home page: http://www.trinitymoravian.org
Posts by PastorJohn
This month, as we celebrate Worldwide Communion here in the Sunnyside neighborhood of Winston-Salem, we gather symbolically with Christians around the world at one great Table of the Lord. It's interesting to reflect that this worldwide testimony or our shared faith started as the idea of one man in one church – ironically, in the Shadyside neighborhood of Pittsburgh, Pennsylvania.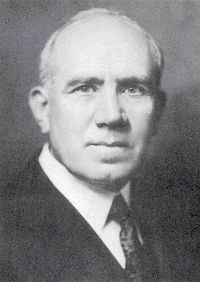 Dr. Hugh Thomson Kerr became pastor of Shadyside Presbyterian Church in 1913. He served there for thirty-two years, until 1945. Nationally recognized as a gifted preacher and pastor, he was the first to broadcast Sunday morning sermons over the world's first commercial radio station, KDKA Pittsburgh. They broadcast the first radio message broadcast to the Arctic (on Christmas Sunday evening, 1922) and the first worship service broadcast to the Antarctic, reaching Admiral Byrd at Little America on Easter Sunday morning, 1929. Dr. Kerr was also the author of the hymn "God of Our Life, Through All the Circling Years."
In 1930, he had an idea – to invite all Christians around the world to celebrate Holy Communion together on the same day. The first "Worldwide Communion" was held at Shadyside Presbyterian in 1933 – all by themselves. But Dr. Kerr began a campaign to spread the idea, and soon it was adopted by the Presbyterian Church (USA) and then in 1940 by the Department of Evangelism of the Federal Council of Churches (the predecessor of the National Council of Churches). The department's executive secretary, Jesse Bader, led in its extension to a number of churches throughout the world.
In a lot of ways, there couldn't be churches more different than Shadyside Presbyterian and Trinity Moravian in the Sunnyside neighborhood.  Shadyside is a very upscale, formal church where the ushers still wear formal cutaway morning coats, and Trinity is a fairly informal congregation with many working-class members.  But such differences are swept aside as we gather around the table of the Lord!  There, we gather as equals, sinners who have been redeemed by grace.  There we gather, bank president next to janitor, Harvard professor next to a mother from a tiny village in Tanzania.
I love this story of the first "Worldwide Communion being celebrated at just one church!  It pays to think big, to lift up our common hope in faith in a big way. Dr. Kerr did, and soon many others joined in. And this month we join the millions around the world in our common celebration!
- Pastor John
For those that are interested, you can read more in the article Worldwide Communion by John Dalles.

September is "back-to-school" time for many families, and that means it's "back-to-LOGOS" time at Trinity!  I want to take a moment to emphasize how very important this program is for the life of our congregation and for the children that are touched by LOGOS.
LOGOS provides a lot more than a hot meal and fellowship, some craft time, and Bible study.  Some of the children who have attended in recent years come from homes where the idea of sitting down and having dinner together is a foreign idea.  The fellowship and welcome of a sit-down meal with shared conversation is a new thing for them.  Bible study brings its own rewards, I'm always pleased to find that our Trinity kids know and remember the stories of the Exodus and King David.  Crafts and games are an enjoyable time together, choir brings the magic of music to everyone, and chapel features a different parable to reflect on.
Last year, we added some exciting  activities that included meeting a miniature pony, "hands-on" science including experiments with static electricity and figuring out how Mentos and Diet Coke cause such a reaction.  This year we will be raising some earthworms ("EEEWWW") that will eventually fertilize some square-foot gardens, more chemistry, experiments with sound, and we'll have the opportunity to meet a sheep!
LOGOS provides a building block experience for many children that they would not have any other way.  To all who cook, all who clean up, all who teach, and all who contribute in so many ways to make that "midweek miracle" happen – THANKS!!!  You receive a blessing from your participation, but you create a blessing that ultimately comes from God.!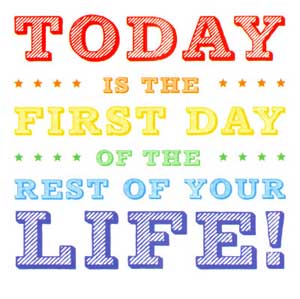 Though I haven't seen it lately, several years ago it was common to see posters and bumper stickers that said "Today is the first day of the rest of your life." Though I'm not sure where the quote actually comes from, the Washington Post attributed it to CHARLES DEDERICH, the founder of Synanon, a self-help community for drug abusers and alcoholics, based in California. Though it may have been worn out through overuse, it's a pithy thought, focusing us on the possibilities of the future if we take responsibility for today.
So – today is the next day of the rest of the life of Trinity Moravian Church! We've had our wonderful Centennial Celebration, we've reflected on the hundred years of history and the courage and vision of those in the past who followed Christ in active ministry to our neighborhood. Special thanks to all those who worked so hard to make that wonderful celebration happen – Centennial Committee, choir, ushers, kitchen workers, our tireless office administrator Kim Noftle, and many others. Only those who worked "behind the scenes" really know how much work was involved.
But now what? I'll tell you what! It's back to the work we are called to do! BEING the Body of Christ, SHARING one another's pain and joys, HELPING those in need, LISTENING to each other and our neighbors, listening also for the guidance of the Savior in each moment, GROWING in grace.
I have shared many challenging articles and studies with our Joint Board over the last couple of years, but one theme emerges from recent research on the Church. While "institutional church" is in as much trouble as the newspaper business (pretty bad!), individual congregations thrive when they are actively involved in local ministry and purpose, where people in the parish know one another, love one another, and minister side by side, and are connected to the neighborhoods they are in.
Voices like Ross Douthat in the New York Times call us back to the "Empire Church" of yesterday, longing for an authoritarian top-down orthodoxy that has probably never been what Jesus had in mind. Moravians have never been about that. There's a way in which we've always been small, local, connected. Moravians have a sense of being connected to one another and to the Savior that is a fundamental part of who we are and the peculiar ministry we are called to – to change our communities by our mere presence and existence.
We haven't always fulfilled that special role of being "salt" and "light." There have been many times that we have just been sticks-in-the-mud, mired in traditions without remembering the meaning that gave them vitality. There have been times when we have stumbled terribly, accommodating the world and public opinion rather than faithfully loving all we meet. There have been times that we have been so hide-bound that we couldn't move fast enough to do what needed doing. But there have also been times when we have stood up and lifted those candles high together, and shed light in a dark corner that needed it desperately.
So what do we do with today? Today, and tomorrow, and the day after that we need to stand up and hold our candles high, we need to do what needs to be done in our congregation, in our Regional Conference of Churches, in our neighborhood, and in our city. We need to do that little thing we are called to do – change the world.
We are posting this sermon excerpt today in the wake of the terrible theatre shooting incident in Aurora, Colorado.
It is an excerpt from a sermon on Mark 4:35-41 preached on June 24, 2012 titled "The Storms of Life."
Hear the entire sermon: The Storms of Life (audio)
Watch the entire sermon: The Storms of Life (video)
Download MP3 of the entire sermon: The Storms of Life (MP3)
This week, after one of our families was directly impacted by gun violence, it's an appropriate week to ask: why? Why does evil happen? Why does suffering happen in our world? Why does God allow it?
When the storms come, we ask these questions, and one thing that I can say with great confidence: God can bear your questioning Him. God's got big shoulders that way! But in thinking about this, we need to ask a couple of deeper questions. Back when I was studying philosophy in college, when addressing this question of suffering, one of the first questions that philosophers will ask is "Is it unnecessary suffering?" Now that's not a question I really want to ask when I'm suffering or in pain, I just want it to stop!
But it's a question we must ask ourselves, because there are things that we do not understand, but we have to go through to learn, to grow, to mature. This is certainly something you can understand from a larger perspective even if you just have had a pet. You have to take your pet to the veterinarian for its own good, its own health, but the pet never wants to go and never wants a shot. And then you become a parent, and you understand a little bit of how God feels when you have to take the baby whom you love so dearly to their first round of vaccinations. And it hurts you more than it hurts the baby to listen to the cries — but it needs to be done! Just because we don't understand why in that moment, when it hurts so much, doesn't mean that it's not necessary for us to go through. That's one kind of pain.
C. S. Lewis, in his classic book The Problem of Pain, wrote that he could explain why we must have pain, but it was beyond his abilities to make it palatable.
But then in our world there's a whole other class of suffering, that comes from human evil, that I really can't explain. God has given us free will, and in giving us free will, He gives us the freedom to do what is good or what is evil. And there is absolutely no doubt that there is evil in the world, and that human beings hurt one another unnecessarily, and out of bad, evil motives. No doubt at all.
But think for a moment what the world would be like if God turned that off, and intervened. What would the world be like if every time someone wanted to misuse a baseball bat to hit someone in the head instead of using it properly to hit a baseball, it turned to limp rubber. What would happen if every time someone picked up a gun to use it for evil, it shot daisies. That would mean that those people also could not choose to do good to one another. That would be a world where there would not be free will. And in that world, we could not choose evil, but we could also not choose to do what is good. Does that take the pain of it away? No, it doesn't, no it doesn't.
One of the great messages that we get out of the Bible, and out of the New Testament in particular, is that Jesus, being as we believe in part God, being the face if you will of God, coming to earth to be and to live and experience humanity , one of the things that is a part of that is that He experienced suffering with us, and that is one of the most profound messages that we get out of the NT. That He has experienced these moments of pain, these moments of terror, these moments of fear with us, He has experienced us. So He has gone alongside of us.
There is the idea that came up a number of years ago, particularly from Henri Nouwen, of the "Wounded Healer," in the pastor. The idea is that you cannot really be a healer if you haven't experienced woundedness and pain yourself, if you haven't been through some of the hardships of life yourself. That's why some of the TV Prosperity preachers seem so fake when they get in their jet planes, and jet away on their silver planes to their next destination, and they get in their limo and are whisked by servants to their next podium, and they get up with their diamonds rings, and all the people waiting on them, and no suffering in their lives other than minor inconvenience that they can buy their way out of, and they preach that we can have lives just like theirs if we only live by the right formula, pray the right way, there's something that just doesn't ring right. It's like a cracked bell, that when you ring it, it sounds with a dull thud. It just doesn't ring true. It's not genuine, it's not real.
And so I think that every one of us, out of our pain, out of our experience of the storms of life, can reach out to someone else, and help them heal by sharing our experience. And that's what being a Wounded Healer is all about, that's what the Suffering Servant was all about.
And in fact that's the message I would like to leave you with out of this story. The message is that when the storms of life hit you and overwhelm you, when the waves are higher than your head, when you feel like you are drowning and you can't breathe, and you can't figure out which way is up, Jesus is in the boat with you. Not somewhere else. He's in the boat with you. And in that I find great comfort.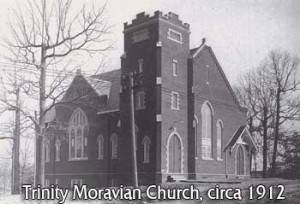 Well, the date has finally arrived! This month marks the Centennial anniversary of Trinity Moravian Church. Though the construction of the building was begun in late 1911 (that's why the cornerstone has the earlier date) and the first worship services were held in May, the official Charter was not closed and accepted by the Provincial Elders Conference until July 14, 1912 – that's when Trinity became an active, full-fledged congregation.
We will hold our great Centennial Celebration on Sunday, July 15th at our 11 am service. The Right Rev. Graham Rights, who grew up in our parsonage during the years his father, the Rev Douglas Rights, was pastor, and the Right Rev. Wayne Burkette will be our special guest speakers. We anticipate many friends and children of the church to be visiting back with us for this wonderful day, which will also feature the first performance of an original anthem composed for the occasion.
While this day marks the "high spot" of our anniversary, we will continue to have special moments of recognition through the rest of the year, including several other guest speakers who have connections to the history of the congregation. We'll release a special color pictorial directory complete with both historic photos and pictures of our celebration events; we'll have a special dedication of the brick memorial garden; and there will be several other recognitions of important moments from our history.
I want to extend my personal thanks to the Centennial Committee for their hard work in planning these events, and especially to Joyce Carter and John Foltz for the many hours of extra "behind the scenes" work; to Donna Rothrock for organizing the Centennial Concerts; to Jonathan Sidden for supervising the composition of the commemorative anthem; to Elaine Cockerham and Betty Jo SLuder for their work on the pictorial directory; and to the many other people who put in hours of work in the archives and other places to make this event possible. Finally, I want to extend a special "thank you" to Kim Noftle, our office administrator, through whose capable hands and work many of the ideas of the Committee became reality – either in the form of newsletters, special bulletins, or simply making sure that specially ordered items were here on time! Thanks to all of you!
- Pastor John
The theme that our Centennial Committee has selected for the month of June is "Grace." If ever there was a topic broader or deeper, I don't know what it is! For it is indeed the "amazing grace" of God that draws us together and that brings us into fellowship with Him in spite of our shortcomings and even rebelliousness. Every one of us needs the grace that God extends to us – and we need an echo of that grace from other human beings to reach over those moments when we all fall short of the mark.
The term "grace" has a variety of meanings, but they are all connected in some way. We might say that a dancer moves with "grace" meaning that her movements are smooth and flowing and beautiful, and not awkward or jolting. We say that a person is "gracious" when they extend themselves to us in hospitality or in overlooking a less-than-gracious action of our own. We say "grace" before a meal, because we are thanking God for the grace of the bounty we enjoy.
Ultimately, "grace" is about kindness and understanding even in moments when it is not earned or deserved. In Paul's letter to the Romans, he spells out the most dramatic example of grace: "But God demonstrates his own love for us in this: While we were still sinners, Christ died for us." Jesus weaves a story of grace for us in the parable best known as the "Parable of the Prodigal Son." In spite of the younger son's poor judgment and ungracious behavior, his loving father waits patiently for him to come home so that he can be welcomed with grace and love. Indeed, theologian Helmut Thielicke insists that the traditional title of the parable has entirely the wrong emphasis: that we should refer to this as the "Parable of the Waiting Father."
When we speak of grace, of course the hymn and story that most comes to mind is that of John Newton and his hymn Amazing Grace. It is a remarkable story, one I hope to put on film one of these days soon. It is a story of unearned and undeserved redemption, a slaver and one-time slave himself who found grace and ultimately became a crusader for the abolition of slavery. Our personal stories may not be as dramatic as Newton's. Most of our stories would not make good movies. But if you have found the wonderful grace his hymn speaks of, your story is just as much a miracle as his, just as much a wonder of God's patient love and gracious redemption.
- Pastor John

This month marks the 285th anniversary of a very important event in the history of the Moravian Church – an event that is often overlooked in our emphasis on August 13th and Christ the Chief Elder celebrations. That event was the adoption of the "First Statutes of Herrnhut," later known as the "Brotherly Agreement" and today as the "Moravian Covenant for Christian Living."
After months of bitter division and infighting, the Herrnhutters had spent a period in intense Bible study and prayer. Out of that experience, they became convinced that their behavior had been inherently unchristian – that Christians were called to unity and love, not to division and anger. On May 12, 1727, they gathered to sign what were essentially two documents: the Manorial Injunctions, a set of civil laws that were pretty much dictated by Count Zinzendorf, and the Bruderlische Vertrag, the Brotherly Agreement. The Injunctions were not optional – if you wanted to live in Herrnhut, you had to agree to abide by them. But the second part, outlining principles of Christian living, were voluntary. Every resident agreed to sign them.
The signing of the Brotherly Agreement, essentially an agreement to behave in a loving manner consistent with the call of Christ, was a turning point that set the stage for the dynamic renewal that happened on August 13th. That "Moravian Pentecost" could not have happened without the signing of the Agreement. The amazing renewal that marks the beginning of the Moravian mission movement was a direct outgrowth from the Herrnhutters' intentional modification of their behavior, and a renewed commitment to prayer and discipleship. As a result, ours is the only denomination that asks new members to agree to a certain standard of behavior rather than assenting to a set of beliefs.
This month, as a very intentional part of the leadup to our Centennial Celebration, we will be taking a look at the Moravian Covenant during our worship services, reviewing the very idea of the Covenant and the specific demands that the collected Biblical injunctions place on us as we live out our faith in the real world. Sermons this month will each originate from different aspects of the Covenant, and will explore ways the Covenant helps us to live out the call of Christ – that we might be known by our love!
- Pastor John
The current updated Moravian Covenant for Christian Living
For those interested, here are some of the historical examples of the Agreement:
—-
1762 Brotherly Agreement Enacted in Bethlehem, PA - Thanks to the Digital Bethlehem Project
—-
The 1727 Brüderlisch Vertrag as adopted in Herrnhut, Germany – thanks to the Moravian Archives, Southern Province.
Statutes of the Congregation at Herrnhut, in the year 1727.
1. It shall be for ever remembered by the inhabitants of Herrnhut, that it was built on the Grace of the living God, that it is a work of His own hand, yet not properly intended to be a new town, but only an establishment erected for Brethren and for the Brethren's sake.
2. Herrnhut, and its original old inhabitants must remain in a constant bond of love with all Children of God belonging to the different religious persuasions—they must judge none, enter into no disputes with any, nor behave themselves unseemly towards any, but rather seek to maintain among themselves the pure evangelical doctrine, simplicity and grace.
3. The following are the characteristics of a true member of Christ's body, and these we, the inhabitants of Herrnhut, who simply adhere to the foundation built on the Word of God, deem to be the most sure. Whosoever does not confess that he owes his awakening and salvation exclusively to the mercy of God in Christ Jesus, and that he cannot exist without it for one moment of his life, that the greatest perfection in life (were it possible to attain to it, without the intercession of the Mediator, urged by the plea of His blood and merit) would be of no avail in the sight of God, while it is made acceptable in the Beloved ; and whoever does not daily prove it by his whole conversation, that it is his full determination to be delivered from sin, through the merits of Jesus, and to follow daily more after holiness, to grow in the likeness of his Lord, to be cleansed from all spiritual idolatry, vanity and self-will, to walk as Jesus did, and to bear his reproach and shame : such an one is not a genuine Brother. But whosoever has this disposition of heart, though he maintain sectarian, fanatical, or at least defective opinions, shall not on that account be despised among us, nor in case of his even separating himself from us, will we immediately forsake him, but we will rather follow him in his wanderings, and spare him, and bear with him in the spirit of love, patience, and meekness. But whosoever is not fully established on the above-named fundamental principles, though he do not wholly forsake them, shall be considered as a halting and wavering Brother, and be reclaimed in the spirit of meekness.
4. It is laudable in itself for the Congregation to devote certain days to the special remembrance of the faithful leading of our God, celebrating them with fasting and prayer, or thanks and praise. Such days, for instance, as that of the emigration of the first Brethren on the 1 zth of May, on which day in different years many remarkable events have taken place. In like manner every individual may consecrate those days, which to him are the most memorable, to the Lord, spending them as above with his intimate Brethren and Friends. But in both cases care must be taken that this appropriation of certain days do not degenerate into mere lifeless custom.
5. Those who, with an unfettered conscience, acquiesce in the present external regulations of the Church, will not hesitate to declare the ground of their acquiescence, to wit, that they do not consider human regulations and customs as an unalterable part of divine worship, but make use of them, agreeably to the dictates of Christian liberty, in a spirit of meekness, love and obedience, till the Lord himself brings about a change. Should in aftertimes any particular order of things be introduced among us, in respect to the outward form of devotional rites, simplicity and edification must be aimed at exclusively.
6. Whoever has not been used to auricular confession, or has conscientious objections in his mind against it, shall not be forced to submit to it at Berthelsdorf; yet no one shall be permitted to go to the Holy Communion without the previous knowledge of the Minister at Berthelsdorf, in order that all confusion and levity may be prevented.
7. No one is to enter into confidential intercourse with people that are notoriously wicked, or altogether worldly-minded, lest offence should thereby be given ; yet it is proper that such people should be treated as much as possible in an equitable and unassuming manner, and none should allow themselves in any vehemences against them.
8. Everyone should be careful to comprehend the true foundation of the saving doctrine on which we are all agreed ; that so we may be able to give an answer to all our adversaries in meekness, yet with wisdom and power, and all may mutually defend and support one another.
9. When any traces of a good work begin to show themselves in one soul or another, no premature judgment concerning them should be formed ; but it is expedient to wait with patience till the fruits begin to appear, while we must feel thankful to God for the good beginning which is to be traced, and promote their welfare as much as lies in our power.
10. In general, we consider it an abominable practice for any one to judge and condemn his neighbour rashly, and without clear and full evidence, and without previously using all the acknowledged and Scriptural degrees of brotherly correction. Whoever, therefore, is guilty of this unjustifiable proceeding subjects himself to well-merited censure.
11. Ministers, Labourers, and all whose official incumbency it is to care for and watch over the souls of others, must be at full liberty to hold frequent and full intercourse with one or the other, and no suspicion is to be cast on them on that account.
12. As the conversion of souls is the chief object of most of the present inhabitants of Herrnhut, everyone must be permitted to choose those with whom he would, for the time being, be more intimately connected, than he could be with others; and to alter his choice according to circumstances without fearing to give offence.
The intercourse between single persons of both sexes must have its restrictions, and the Elders are empowered to prevent it whenever in any case scruples arise in their minds against such intercourse, though the apparent aim of it might be ever so laudable.
13. Envy, suspicion, and unfounded prejudice against the Brethren must be most carefully guarded against. As everyone is at liberty to cultivate an intercourse with others, no one ought to take it amiss if another should appear more familiarly acquainted with the Elders than he. For the sake of the weak, no light conversation is to be allowed concerning God and spiritual things, but such subjects ought always to be treated with the greatest reverence.
15. Agreeably to the practice of the Primitive Church, the Brethren are called upon to exert themselves in every possible way for the benefit of those who are of the same household of faith; and to all others they are to do as they would wish that others should do unto them.
16. Whosoever has received the needful gift for it is to speak, the others to judge.
17. Those who seem to be best suited one to the other may, without hesitation, live in the habit of close familiarity, join in prayer, and act in all respects as intimate friendship requires; yet such preference given to any individual must by no means be to the prejudice of cordial brotherly love towards all others ; and it becomes the duty of those who are particularly acquainted one with the other to lend each other a helping hand as it regards doctrine, admonition, reproof, direction, yea, their * whole spiritual course.
18. No Brother is to enrol himself as a member of any particular trading or handicraft association without first acquainting the others of his design. And no business carried on among us is to be looked upon as in itself mean and despicable.
19. No one shall, even in the smallest way, overreach his neighbour, much less defraud him. zo. No marriage is to be contracted without the knowledge and approbation of the Elders, and no promise of marriage is to be given and received, except in their presence, and with their consent.
21. No son shall require his father or mother to move from his house as long as they have a mind to continue there in peace and quietness.
22. All superstitious notions and practices are inconsistent with the character of true Brethren; and idle tales of apparitions, omens, etc., must be looked upon as foolish and hurtful.
23. As there are those who more particularly stand in need of daily admonitions—there shall be daily opportunities given for exhortation and edification at Herrnhut; yet no one can be considered as obliged to attend on these occasions, unless the whole Congregation should be expressly called to assemble together.
24. If anyone should be overtaken in a fault, he must not consider it as disgraceful to be spoken to on the subject; or to receive admonition or reproof. He ought to take it in good part, and not allow himself to retort, much less think himself warranted on that account to withdraw from the fellowship of the Brethren. All matters "of this kind should be judged and decided exclusively by those whose official incumbency requires their interference.
25. Whosoever spreads any unfounded report against another is bound to declare to the elders the reason of his allegations, and afterwards to recant the report, whether required to do so in consequence of the complaint of the person injured thereby or not.
26. Whenever in public companies anything is said to the disadvantage of anyone not then present, everyone is authorised to acquaint the person alluded to of it, yet without naming the offender.
27. It is the special duty of some Brethren to visit, from motives of self-denying charity and love, those fellow-members of the Congregation who are afflicted with sickness and ailments, and to attend to their wants. And as long as we shall be favoured to have a physician who is one of us, every inhabitant of Herrnhut should speak to him and ask his advice about any ailments or illness of his before he seeks counsel from others. No one who is not properly qualified for it should venture to undertake the cure of others.
28. The names and circumstances of the patients are to be immediately mentioned to the sick-waiters of both sexes; and the prescriptions of the physicians, as well as the directions of the sick-waiters themselves, ought to be carefully observed both by the patients themselves and by those who are about them.
29. Everyone must conscientiously keep to himself what has been confidently, and as a secret, entrusted to him.
30. No one is to harbour anything in his mind against another, but rather immediately, and in a friendly and becoming manner, mention what may have offended him, without respect of persons. Complaints which have been purposely suffered to accumulate must not even be listened to, but quarrels, envy and wilful dissensions ought to be abominated by all, and those who are guilty of these things be looked upon as unbelivers.
31. A mechanic or tradesman ought to be most punctual in fulfilling the promises he has made; and in case circumstances should prevent his doing so, it is his duty to mention, in due time, the cause of his not being able to act according to his promise.
32. All judicial interference is to be grounded in the plain commandments of God, on these Statutes, and on natural equity and justice.
33- Every effort shall be made to reclaim the erring by friendly reproof and discipline, but should this fail the offender is expected and required to leave the place.
34. The Elders shall hold a conference every Saturday, and if any be cited to appear before that conference he is to obey the summons, and in case of reiterated and obstinate refusal he must leave the place.
35. The Watchers are to sing a verse from a suitable hymn, at the change of the successive hours in the night, with a view to encourage and edify the Congregation.
36. The doctrine and example of Jesus and His Apostles shall be the general and special rule of all our ministry and instruction.
37. Whosoever perseveres in an open course of levity and sin, though often before warned and admonished, shall be excluded from our Brotherly fellowship, nor can he be re-admitted till he has given sufficient proofs of his being an altered character.
38. All the young people at Herrnhut who shall confess their faith in Christ are to be Confirmed, after which these Statutes are to be given them for their consideration.
39. No magisterial person, Minister, Elder, or Warden, nor anyone else who may in this or the other respect have authority over others, shall use the power possessed by him, otherwise than to be a helper of the joy of those over whom he is placed, and to comfort them in sufferings, trials, and wants.
40. All who are influenced by the love of God must keep up a friendly and cordial fellowship with all who are like-minded, making in this respect no exceptions.
41. Everyone shall be at liberty in love to admonish and rebuke his Brother, whether there be ground for it or not. But this must be done with great modesty, and all vehemence on either side be carefully avoided. If an explanation or exculpation be offered, the person who gave the admonition ought either to be satisfied with it or refer the case to other Brethren.
42. Should we be called to suffer persecutions, everyone should consider them as precious and most useful exercises; love those that persecute us, treat them respectfully, answer their questions with modesty and simplicity, and cheerfully submit to what may befall us, according to the confession we make before God and man.
Besides these Statutes, which were intended to regulate the relative behaviour of the inhabitants of Herrnhut, as members of a Congregation of Jesus, and which were entitled " Brotherly Agreement of the Brethren from Bohemia and Moravia and others, binding them to walk according to the apostolic rule," others were drawn up, and received the title, "Injunctions and Prohibitions, etc." These had a chief reference to that moral order and well-regulated police, which are suited to a congregation of Christians. All the inhabitants of Herrnhut, without any exception, were expected to signify their willingness to conform to these last-mentioned Statutes by adding their signature to them. The subscription to the former was, in the following year, no longer insisted on, because the Brethren had been accused, in consequence of having drawn up these Statutes, of having adopted a separate Confession of Faith and thereby laid the foundation for a new system of religion.
As Holy Week begins, Moravians around the world spend some time each night reading and experiencing the events of each day of Jesus' life leading up to the Cross, the tomb, and the resurrection morning of Easter. We begin with the joyful experience of Palm Sunday, singing together the wonderful call-and-response of Hosanna. We share a simple meal of lovefeast as we begin our week of Passion Week readings together. Then each night, we will gather in the Rights Chapel to read the events of each day together, alternating readings, hymn verses, and times of prayer. On Thursday we solemnly share in the simple meal of the Last Supper, reading together the words of Jesus on that night. On Friday morning, we will share in the 35th annual Cross Walk, carrying the cross in silence through downtown Winston-Salem. Then Friday night at our Tenebrae Service, we will read together the words from the Cross and remember the crucifixion and extinguish the lights in symbolic memory of the death of the Savior. On Saturday, the Great Sabbath, many of us will gather at Home Moravian for a service of prayer and musical meditation to honor Christ's rest in the grave. Then, on Easter morning, we will gather with thousands of other worshippers in the darkness to hear the sunrise proclamation: "The Lord is risen!"
This experience is central to who we are. If you ask me if I understand Easter, I'm pretty sure my answer would be "no." Certainly not in the same way that I understand where to put a comma in a sentence or how to fix a broken light switch or why putting Mentos in Diet Pepsi is so much fun. After celebrating many, many Easters I do not seek to explain Easter as much as simply experience it. That is why Moravian practice is so experiential: Easter is not a factoid to be documented and explained, it is a turning point of the cosmos to be experienced. Easter is something that we do together; and in the doing, we tap into a deep understanding of the Resurrection that cannot be explained in words or in books.
If your Easter does not include the profound experiences of the Last Supper, of the Cross Walk, of Easter Sunrise, then you have missed a part of the spiritual depth and wisdom, you have missed a part of what Easter really is about.
This year, come to the Table with us; carry the Cross with us; experience the sunrise with us as we proclaim "The Lord is risen!" Make this year the year that you truly experience Easter.
- Pastor John
March 1, 1457 is the day recognized as the official date of the organization of the Unitas Fratrum, the Unity of Brethren – so this month actually marks the 555th anniversary of the Moravian Church. This was sixty years before Martin Luther nailed his 95 Theses to the door of Wittenburg Cathedral; and as I have recently had the opportunity to remind the Episcopal Bishop of Washington, it was over seventy-five years before the Church of England separated from Rome. Many historians now refer to the Hussite movement as the "First Reformation," and recognize that there was in fact a strong and organized reform movementin place before Luther and Henry VIII were even born. The movement had an enormous impact on the life and worship of central Europe, much of which was wiped out in subsequent wars and swept under the carpet when the area later became Roman Catholic
Ours was a church born out of struggle and war that then sought a way to peace. Following the martyrdom of John Hus in 1415, his followers in Moravian and Bohemia rose up against the Roman Catholic armies, and a period known as the Hussite Wars began that ravaged the area. There were initially a number of different Hussite groups with varying and sometimes competing ideas; but as war raged on and these groups competed, eventually a variety of Hussites came together to found the Unitas Fratrum or Unity of Brethren. .
Through five hundred and fifty-five years, the Church has seen a lot of changes. The Unitas Fratrum almost died out (some historians feel it actually did die out) in the 17th century during the time of Comenius and the Thirty Years' War. It was reorganized by that legendary band of settlers on Zinzendorf's lands in 1727, and that movement defines many of the traditions and practices that we so love today.
But through all those years and changes there have been some important constants: the centrality of Christ, the compassion and love of God, the incredible grace that is extended to us, and an emphasis on looking back to Apostolic Christianity rather than the institutional pronouncements of Rome. The idea that there are really only a few "essentials" and that other differences should not divide Christians has been an important constant; so too is the idea that it is essential that we live lives that express Christ's love. Indeed, the early members of the Unity referred to themselves as "Brethren of the Law," the law of love. It has to be said that we have not always lived up to this great tradition, sometimes getting more caught up in the external non-essentials.
As we look back on the founding of our congregation only a hundred years ago, as we celebrate and recall the faithful Christian lives in living memory that have impacted our faith, we also need to recall that we are part of a much longer history, a rich heritage of faith that proclaims:
In essentials, UNITY
In non-essentials, LIBERTY
In all things, LOVE.
- Pastor John
February marks many things – Groundhog Day, Valentine's Day, and since this year is a Leap Year, February has 29 days. But it is also this year the beginning of Lent; Ash Wednesday is February 22. So, February also marks the traditional parties before the beginning of Lent – Mardi Gras in New Orleans, Carnivale in Brazil, Pancake day in many places, Fastnacht Day in Pennsylvania.
The day of Ash Wednesday, forty days before Easter (not including Sundays, if you're counting the day!), is meant to remind us of Noah's forty days in the Flood, the Hebrews' forty years in the desert, and especially Jesus forty days in the desert at the beginning of his ministry. Lent is intended to be a special time of prayer, mediation, and spiritual preparation for Easter.
But our busy, smart-phone buzzing world filled with sound and interruption has little space for the kind of meditation that allows Lent to unfold with spiritual benefit. In 1943 during the height of World War II, poet T. S. Eliot caught this dilemma in his poem Ash Wednesday:
Where shall the word be found, where will the word
Resound? Not here, there is not enough silence
Not on the sea or on the islands, not
On the mainland, in the desert or the rain land,
For those who walk in darkness
Both in the day time and in the night time
The right time and the right place are not here
No place of grace for those who avoid the face
No time to rejoice for those who walk among noise and deny
the voice.
We need to carve out some Sabbath-time in our noisy lives to truly experience Lent in a real way; and a gift we can give others is the reminder that they, too, need that quiet Sabbath-time to hear "the voice."
Though our world seems disruptive and intrusive, most of the noise that blocks out our spiritual time is voluntary. But Eliot wrote this poem during wartime, a time when he served as an air-raid warden. So it is in the midst of rationing, blackouts, and bombs that he wrote:
Teach us to sit still
Even among these rocks,
Our peace in His will
And even among these rocks
I pray that this Lent, you will be able to set aside a space of quiet time for mediation, but also for service to others.
- Pastor John
PastorJohn's RSS Feed