Advent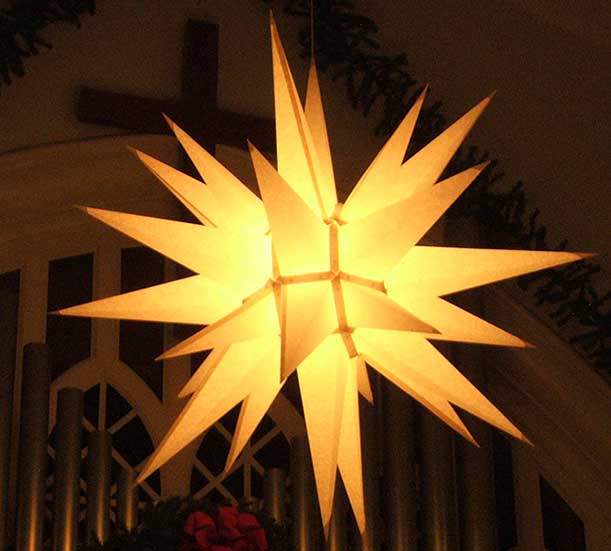 Moravians sure know how to do Christmas!  But did you know that the Moravian Christmas celebrations in Bethlehem and Salem were regarded with suspicion by other religious folk of the day?  In fact, Puritans had outlawed the observance of Christmas in the early colonies, viewing it as a "Popish," or Catholic, holiday filled with sin and excess?  In fact, Puritan laws forbidding Christmas were not repealed until 1681, and during the 18th century most religious folks did little if anything to observe Christmas.  Christmas did not become an official holiday in America until 1870.
Bethlehem, Pennsylvania was named by Count Zinzendorf of Christmas Eve, 1742, to recall the village of Jesus' birth.  Moravians saw the incarnation of Jesus as a pivotal event that changed all of human history, and they thought that the love of God expressed in Jesus' birth should infuse all of life and practice and faith.  They had no problem with rejoicing and celebration to honor the birth of the Savior.  So they went right on having their Christmas services and pretty much ignored what everyone else thought.  When the practice of sharing lit beeswax candles with the children began in Germany on Christmas Eve, 1747, the Moravians in Bethlehem adopted the celebration right away the very next Christmas Eve.  When Salem was founded, the Candle service was a beloved tradition, though back then the candles were only given to the children of the congregation.
Like those faithful Moravians of old, we can celebrate our faith in Jesus Christ without worry or concern about what the rest of the world does.  Don't get caught up in "Christmas wars" or outdoing the neighbors with your Christmas display.  In fact, it might be a good idea to cut back on some of the worldly trapping of the season and focus more time and energy on being with your family and creating new memories.  Try an Advent calendar with your grandchildren!  Take them to see the Putz in Salem.  Explain to them what Christmas means for your faith.  Set aside time to do something nice for a person who has not been nice to you.  Instead of watching a movie of Dickens' Christmas Carol, get the book and read it aloud to your children, pretending to be the various characters.  It's a lot of fun, and an experience your kids won't forget.
These things which bring meaning to Christmas and build memories don't cost much at all, but they have spiritual impact that will outlive this year's hot toy or soon-forgotten video game.  This year, invite a family in your neighborhood to one of the Christmas Eve Lovefeasts – there are many Winston-Salem residents who have heard about the Candle Lovefeast but never experienced it.
May the light of Christ's love, glowing from stars and candles and faces, illuminate your life this year!
-Pastor John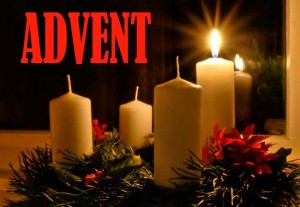 The day after Halloween, the Christmas decorations went up in many stores and the Christmas carols started.  Many eye rolls and groans about Thanksgiving being forgotten.  But our commercialized society has lost more than that – the juggernaut that is Christmas marketing has steamrollered over Advent, as well.  Liturgical churches like ours still observe Advent, and we're going to keep lighting those Advent candles no matter what the marketers outside do!
Advent is not Christmas – it is a four-Sunday time of preparation for Christmas, just as Lent is a time of preparation for Easter.  But our culture is not one of preparation, it is one of sales and marketing.  Let's move those flat-screen TVs and Chinese toys!  We live in a world of instant everything, we want to be able to move right to the punch line, cut to the chase!  But there is great spiritual value in slowing down, in preparing, in getting ready.
In days of yore, a young craftsperson had to be apprenticed to a master for a number of years to learn a trade.  During that time of preparation, the apprentice could make beginner's mistakes, learn from the experience of the master, and gradually gain expertise – until he or she became a "journeyman" and eventually a new master!  Our fables and stories seem to value this kind of learning, but when we look at the actions of our culture it is denigrated.  We want fast-track success, short-cut learning, speed dating, and instant everything.  We live in a schizophrenic culture that honors Dicken's Christmas Carol while at the same time iconizing our own cultural Scrooges!
I urge you to set aside the time this year to slow down, to prepare, to observe Advent even if everyone else has fast-forwarded to Christmas.  Seasons are good, honor and grow by celebrating this one!
-              Pastor John
Advent is something of a waiting place – a place where we are waiting for Christmas, waiting for the birth. We anticipate the holy Event; we get prepared for it. And just as a child longs for Christmas morning to come or a pregnant woman longs for delivery in the last few weeks of pregnancy (Sister Dena Moore comes to mind for some reason!), so we long for Christmas.
You may have seen Dr. Seuss' book Oh, the Places You'll Go. In his wacky wise way, Ted Geisel acknowledges that in every life there are places we go that don't feel positive – or which don't feel like we're getting anywhere. One of these is The Waiting Place:
The Waiting Place…for people just waiting.
Waiting for a train to go
or a bus to come, or a plane to go
or the mail to come,
or the rain to go
or the phone to ring, or the snow to snow
or waiting around for a Yes or No….
We have many waiting places in life. The doctor's waiting room, with the same old magazines we saw last time, surrounded by sniffling people and crying children, is a place that we wait. Flying somewhere on an airplane is less fun now than ever before, especially when the flight is late and we have to wait far longer than expected. When the waiting is finally over, we are really ready to see the doctor or to get on the plane and reach our destination!
Our instant culture is not one that likes to wait. The microwave is no longer fast enough for us. Instant gratification is the hallmark of our internet economy. But sometimes we need to slow down and wait.
"The greatest revelation is stillness," said Chinese philosopher Lao-Tse. But how often do we slow down to have a few moments of silence, of time to prepare for God? These moments don't just happen for most of us – they have to be intentionally set aside. The world and even the Church has filled Advent with busy-ness and noise and things to do. Yet it should be a time when we have some stillness to prepare for the spiritual event of Christmas.
"Those who wait upon the Lord shall renew their strength" (Isaiah 40:31). Waiting in silence is not a waste of time if it prepares our hearts for what is to come. This Advent season, set aside some time to wait upon the Lord, set aside some time to have silence, to have prayer, to read a meditation. Make this time a waiting place – a place of preparation for joy.
- Pastor John