Family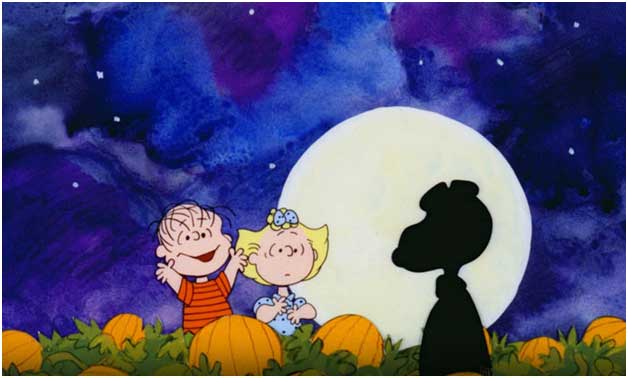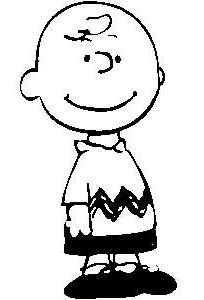 On October 2, 1950, a new comic strip debuted in funny pages across the country – drawn by a young artist named Charles M. Schulz, the strip was called "Peanuts." It was very different from other comics of the day, such as The Katzenjammer Kids, Nancy, or the yet-to-debut Dennis the Menace. All of them depended on children's relationships with grownups for their story and gags. Shulz' strip was only about the children, and their relationships with one another. When asked why there were no adults in Peanuts, Shulz responded "the daily strip is only an inch and a half high, and they wouldn't have room to stand up!" Actually, he felt that the adults would intrude in a world where they could only be uncomfortable. "In earlier days I experimented with off-stage voices, but soon abandoned this as it was not only impractical but actually clumsy," he said in a 1975 interview. "Instead, I have developed a cast of off-stage adults who are talked about but never seen or heard."
The other thing that was distinctive about Peanuts was Schulz' use of theology – Linus quotes the Gospel of Luke from memory, Charlie Brown confronts deep metaphysical questions while playing baseball, Pig Pen carries dirt from Bible times. The deep issues of life run through Peanuts, in the conversations of children. Robert L. Short even published a book called The Theology of Peanuts, which has had huge popularity. Through his pen-and-ink characters, Schulz has touched many lives. Many of us will watch It's the Great Pumpkin, Charlie Brown on TV this month, a show where Schulz pokes gentle fun at unquestioning faith. Shultz was a Minnesota Lutheran, who was active for a while in the Church of God and later taught Sunday School in a Methodist Church. He would have been a good Moravian, for he wrestled with faith and resisted the easy answers. His wife Jean said that "he wanted to know what those passages really meant — his discussions with priests and ministers were so interesting because he wanted to find out what these people (who he thought were more educated than he) thought." She continued, "When he taught Sunday school, he would never tell people what to believe. God was very important to him, but in a very deep way, in a very mysterious way." He was a contributing founder of the "Fellowship of Merry Christians," a group I belong to that seeks to bring humor to worship.
The thing that Peanuts has always reminded me of is the fact that our children have a whole social life – and spiritual life – that exists apart from us, their parents. Peanuts helps us remember that they too are wrestling with the great questions of life – of good and evil, of right and wrong, of meaning and meaninglessness. When we dismiss their childlike questions or ignore their need for understanding, we do a terrible thing – for the answers (or lack of answers) that start growing when we are children are the foundation for the answers (or lack of them) that we may experience as adults. We want our children to be a part of worship, to ask hard questions, to know about suffering and service and grace. The children's sermon in our worship isn't there to entertain the adults – it's there for the children themselves. We cook and clean and plan and organize LOGOS not because none of us have anything else to do every Wednesday – we do it because we love the children of our church and neighborhood and want to give them the best foundation they can have to live life.
Shortly after Schulz's passing in 2000, Peanuts was reported to be printed in 2,600 newspapers in 75 countries in 21 languages. Through pen and ink, and inquisitive mind, and simple drawings, Schulz brought comfort and challenge in a special gentle way to millions – and reminded us that our children aren't just toy consumers. They are spiritual beings, children of God, wrestling with the same things we face as adults.
-Pastor John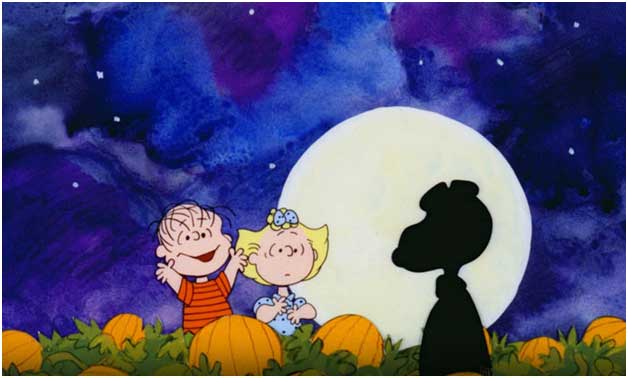 From It's the Great Pumpkin, Charlie Brown! ©1966 CBS, publicity frame used with permission.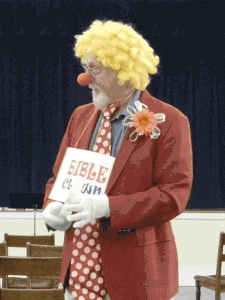 What a wonderful summer! August was a month of bubbling activity on our block and among the churches of the Salem Creek RCC! We started the month with our group of churches holding a joint Vacation Bible School, which was hosted by Trinity and Home Churches. Volunteers from Home, Messiah, St Philips, and Trinity helped make activities for all ages come to life as we studied the Bible as a library of books — and we were proud to have the Trinity youth volunteer to sing the 66 books without missing one! The strangest feature of the VBS was a mysterious "Bible Clown" who showed up briefly at the start of each program. Little Ann Workman found him quite terrifying. Several children noticed that they never saw Bible Clown and Pastor John in the same room at the same time – hmmmm!
Many of our members contributed school supplies to assemble the backpacks that were given away at the Anthony's Plot block party, which had the theme "All Things Good in Our Neighborhood!" That block party was a smashing success, with almost 450 attending. Many Trinity members were present as volunteers, making the day happen smoothly.
The next day, August 17, the Salem Creek RCC sponsored a Children's Festival at Bethabara Church, a celebration of the "children's renewal" of 1727. Families from many outlying churches drove in to spend the afternoon at Bethabara park, enjoying games and crafts, and finally a wonderful children's lovefeast in the sanctuary of Bethabara Church. Many Trinity youth were involved in serving the lovefeast, and the Trinity Puppeteers helped to present the story of the day, under the leadership of Jeannie & Tripp May! One of the puppets looked suspiciously like it might have had Carter Gentle's hand guiding it. Pastor John, Doug Rights, Bishop Sam Gray, and Thomas Baucom led the singing during the lovefeast with guitars and Bishop Sam's unique "wheelie keyboard!"
On August 18, the wonderful Trinity Zimmer-Lewtak pipe organ was featured in the "Sounds of Summer" organ series. We had over 160 people attend on a rainy Monday night to hear the concert — a great turnout!
The month closed with a special Vacation Bible School at St. Philips Church, specially designed to coincide with the week that the school lunch program is on hiatus. Volunteers from of group of churches came together to have a wonderful program for school-age children in the Bon Air and surrounding neighborhoods. Many folks contributed food, and in addition to joyous activities, the children had a hot lunch every day – which many of them would not have had without our work!
My heartfelt thanks to all the people who put in many hours of volunteer work to make these events happen! You've touched many heart with grace, children with fun and Bible stories, and fed some very hungry tummies! This was the busiest August I remember for many years, and it was fantastic!
- Pastor John