Regional Conference of Churches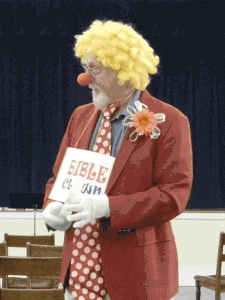 What a wonderful summer! August was a month of bubbling activity on our block and among the churches of the Salem Creek RCC! We started the month with our group of churches holding a joint Vacation Bible School, which was hosted by Trinity and Home Churches. Volunteers from Home, Messiah, St Philips, and Trinity helped make activities for all ages come to life as we studied the Bible as a library of books — and we were proud to have the Trinity youth volunteer to sing the 66 books without missing one! The strangest feature of the VBS was a mysterious "Bible Clown" who showed up briefly at the start of each program. Little Ann Workman found him quite terrifying. Several children noticed that they never saw Bible Clown and Pastor John in the same room at the same time – hmmmm!
Many of our members contributed school supplies to assemble the backpacks that were given away at the Anthony's Plot block party, which had the theme "All Things Good in Our Neighborhood!" That block party was a smashing success, with almost 450 attending. Many Trinity members were present as volunteers, making the day happen smoothly.
The next day, August 17, the Salem Creek RCC sponsored a Children's Festival at Bethabara Church, a celebration of the "children's renewal" of 1727. Families from many outlying churches drove in to spend the afternoon at Bethabara park, enjoying games and crafts, and finally a wonderful children's lovefeast in the sanctuary of Bethabara Church. Many Trinity youth were involved in serving the lovefeast, and the Trinity Puppeteers helped to present the story of the day, under the leadership of Jeannie & Tripp May! One of the puppets looked suspiciously like it might have had Carter Gentle's hand guiding it. Pastor John, Doug Rights, Bishop Sam Gray, and Thomas Baucom led the singing during the lovefeast with guitars and Bishop Sam's unique "wheelie keyboard!"
On August 18, the wonderful Trinity Zimmer-Lewtak pipe organ was featured in the "Sounds of Summer" organ series. We had over 160 people attend on a rainy Monday night to hear the concert — a great turnout!
The month closed with a special Vacation Bible School at St. Philips Church, specially designed to coincide with the week that the school lunch program is on hiatus. Volunteers from of group of churches came together to have a wonderful program for school-age children in the Bon Air and surrounding neighborhoods. Many folks contributed food, and in addition to joyous activities, the children had a hot lunch every day – which many of them would not have had without our work!
My heartfelt thanks to all the people who put in many hours of volunteer work to make these events happen! You've touched many heart with grace, children with fun and Bible stories, and fed some very hungry tummies! This was the busiest August I remember for many years, and it was fantastic!
- Pastor John