Archive for
June, 2012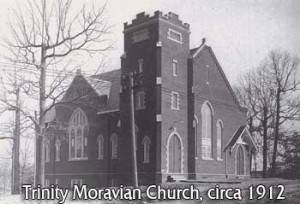 Well, the date has finally arrived! This month marks the Centennial anniversary of Trinity Moravian Church. Though the construction of the building was begun in late 1911 (that's why the cornerstone has the earlier date) and the first worship services were held in May, the official Charter was not closed and accepted by the Provincial Elders Conference until July 14, 1912 – that's when Trinity became an active, full-fledged congregation.
We will hold our great Centennial Celebration on Sunday, July 15th at our 11 am service. The Right Rev. Graham Rights, who grew up in our parsonage during the years his father, the Rev Douglas Rights, was pastor, and the Right Rev. Wayne Burkette will be our special guest speakers. We anticipate many friends and children of the church to be visiting back with us for this wonderful day, which will also feature the first performance of an original anthem composed for the occasion.
While this day marks the "high spot" of our anniversary, we will continue to have special moments of recognition through the rest of the year, including several other guest speakers who have connections to the history of the congregation. We'll release a special color pictorial directory complete with both historic photos and pictures of our celebration events; we'll have a special dedication of the brick memorial garden; and there will be several other recognitions of important moments from our history.
I want to extend my personal thanks to the Centennial Committee for their hard work in planning these events, and especially to Joyce Carter and John Foltz for the many hours of extra "behind the scenes" work; to Donna Rothrock for organizing the Centennial Concerts; to Jonathan Sidden for supervising the composition of the commemorative anthem; to Elaine Cockerham and Betty Jo SLuder for their work on the pictorial directory; and to the many other people who put in hours of work in the archives and other places to make this event possible. Finally, I want to extend a special "thank you" to Kim Noftle, our office administrator, through whose capable hands and work many of the ideas of the Committee became reality – either in the form of newsletters, special bulletins, or simply making sure that specially ordered items were here on time! Thanks to all of you!
- Pastor John
The theme that our Centennial Committee has selected for the month of June is "Grace." If ever there was a topic broader or deeper, I don't know what it is! For it is indeed the "amazing grace" of God that draws us together and that brings us into fellowship with Him in spite of our shortcomings and even rebelliousness. Every one of us needs the grace that God extends to us – and we need an echo of that grace from other human beings to reach over those moments when we all fall short of the mark.
The term "grace" has a variety of meanings, but they are all connected in some way. We might say that a dancer moves with "grace" meaning that her movements are smooth and flowing and beautiful, and not awkward or jolting. We say that a person is "gracious" when they extend themselves to us in hospitality or in overlooking a less-than-gracious action of our own. We say "grace" before a meal, because we are thanking God for the grace of the bounty we enjoy.
Ultimately, "grace" is about kindness and understanding even in moments when it is not earned or deserved. In Paul's letter to the Romans, he spells out the most dramatic example of grace: "But God demonstrates his own love for us in this: While we were still sinners, Christ died for us." Jesus weaves a story of grace for us in the parable best known as the "Parable of the Prodigal Son." In spite of the younger son's poor judgment and ungracious behavior, his loving father waits patiently for him to come home so that he can be welcomed with grace and love. Indeed, theologian Helmut Thielicke insists that the traditional title of the parable has entirely the wrong emphasis: that we should refer to this as the "Parable of the Waiting Father."
When we speak of grace, of course the hymn and story that most comes to mind is that of John Newton and his hymn Amazing Grace. It is a remarkable story, one I hope to put on film one of these days soon. It is a story of unearned and undeserved redemption, a slaver and one-time slave himself who found grace and ultimately became a crusader for the abolition of slavery. Our personal stories may not be as dramatic as Newton's. Most of our stories would not make good movies. But if you have found the wonderful grace his hymn speaks of, your story is just as much a miracle as his, just as much a wonder of God's patient love and gracious redemption.
- Pastor John