Archive for
October, 2012
This month, as we celebrate Worldwide Communion here in the Sunnyside neighborhood of Winston-Salem, we gather symbolically with Christians around the world at one great Table of the Lord. It's interesting to reflect that this worldwide testimony or our shared faith started as the idea of one man in one church – ironically, in the Shadyside neighborhood of Pittsburgh, Pennsylvania.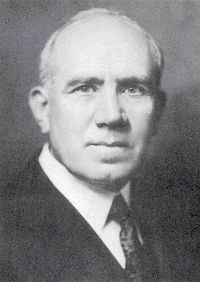 Dr. Hugh Thomson Kerr became pastor of Shadyside Presbyterian Church in 1913. He served there for thirty-two years, until 1945. Nationally recognized as a gifted preacher and pastor, he was the first to broadcast Sunday morning sermons over the world's first commercial radio station, KDKA Pittsburgh. They broadcast the first radio message broadcast to the Arctic (on Christmas Sunday evening, 1922) and the first worship service broadcast to the Antarctic, reaching Admiral Byrd at Little America on Easter Sunday morning, 1929. Dr. Kerr was also the author of the hymn "God of Our Life, Through All the Circling Years."
In 1930, he had an idea – to invite all Christians around the world to celebrate Holy Communion together on the same day. The first "Worldwide Communion" was held at Shadyside Presbyterian in 1933 – all by themselves. But Dr. Kerr began a campaign to spread the idea, and soon it was adopted by the Presbyterian Church (USA) and then in 1940 by the Department of Evangelism of the Federal Council of Churches (the predecessor of the National Council of Churches). The department's executive secretary, Jesse Bader, led in its extension to a number of churches throughout the world.
In a lot of ways, there couldn't be churches more different than Shadyside Presbyterian and Trinity Moravian in the Sunnyside neighborhood.  Shadyside is a very upscale, formal church where the ushers still wear formal cutaway morning coats, and Trinity is a fairly informal congregation with many working-class members.  But such differences are swept aside as we gather around the table of the Lord!  There, we gather as equals, sinners who have been redeemed by grace.  There we gather, bank president next to janitor, Harvard professor next to a mother from a tiny village in Tanzania.
I love this story of the first "Worldwide Communion being celebrated at just one church!  It pays to think big, to lift up our common hope in faith in a big way. Dr. Kerr did, and soon many others joined in. And this month we join the millions around the world in our common celebration!
- Pastor John
For those that are interested, you can read more in the article Worldwide Communion by John Dalles.