Archive for
December, 2013
It's 2 am, no sound except the quiet snores of nearly fifty people who have spent the entire day on the streets and have nowhere else to lay their heads.  But outside, it's 25 degrees and the "official" homeless shelters in our city are full.  So here, in the gym of First Baptist Church, we've distributed mattresses and blankets and pillows for a night of rest in safety and warmth.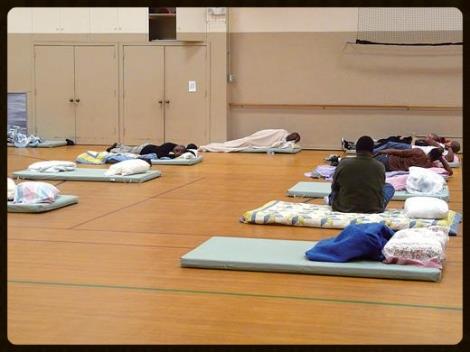 I'm spoiled, I don't sleep easily in strange places, I like my warm cushy bed and my down pillow.  So I'm up writing and thinking and praying.  These folks have little choice where they sleep, they are so tired that a thin mattress on a gym floor is something to be grateful for.  Before going to bed, many of them gathered in a prayer circle to share their thanks to God.
How many of the rest of us went to bed in our comfortable homes in warmth without a thought or nod of gratitude to the Maker?   How many of us went to bed complaining that there was nothing worth watching on our 500 channel cable TV, grousing that Leno was a rerun?
The people of God work together to meet the need.  We need two volunteers every night.  We need volunteers to donate food, donate toiletry kits.  The wonderful middle school group in our church is putting together toiletry kits.  The senior highs have donated food bags.  There's something anyone can do.
Jesus said, when you did it to one of the least of these… you did it to me.
Can you help?  SIGN UP.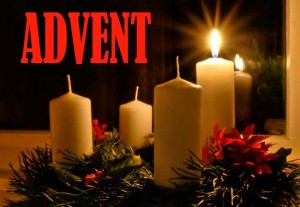 The day after Halloween, the Christmas decorations went up in many stores and the Christmas carols started.  Many eye rolls and groans about Thanksgiving being forgotten.  But our commercialized society has lost more than that – the juggernaut that is Christmas marketing has steamrollered over Advent, as well.  Liturgical churches like ours still observe Advent, and we're going to keep lighting those Advent candles no matter what the marketers outside do!
Advent is not Christmas – it is a four-Sunday time of preparation for Christmas, just as Lent is a time of preparation for Easter.  But our culture is not one of preparation, it is one of sales and marketing.  Let's move those flat-screen TVs and Chinese toys!  We live in a world of instant everything, we want to be able to move right to the punch line, cut to the chase!  But there is great spiritual value in slowing down, in preparing, in getting ready.
In days of yore, a young craftsperson had to be apprenticed to a master for a number of years to learn a trade.  During that time of preparation, the apprentice could make beginner's mistakes, learn from the experience of the master, and gradually gain expertise – until he or she became a "journeyman" and eventually a new master!  Our fables and stories seem to value this kind of learning, but when we look at the actions of our culture it is denigrated.  We want fast-track success, short-cut learning, speed dating, and instant everything.  We live in a schizophrenic culture that honors Dicken's Christmas Carol while at the same time iconizing our own cultural Scrooges!
I urge you to set aside the time this year to slow down, to prepare, to observe Advent even if everyone else has fast-forwarded to Christmas.  Seasons are good, honor and grow by celebrating this one!
-              Pastor John
A few weeks ago, we viewed a brief video as part of a sermon called "The Science of Happiness."  If you missed it, you can view the video HERE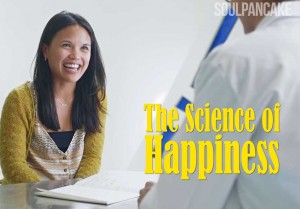 .  It showed in practical examples how those who expressed gratitude to others had measurable improvements in their mood and feelings.  The mental "attitude of gratitude" is something that affects those around us – and affects us internally.  It's not just a psychological fact, it is a spiritual reality.
Scripture is clear on calling us to express our gratitude to God, and to those around us who have positively impacted our lives.  Practicing acts of thanksgiving changes our outlook, makes us more hopeful and optimistic, and gives us the spiritual endurance to get over the inevitable potholes and speed bumps of life.  Of course, the reverse is also true: those who constantly complain, who focus on the rottenness of life and other people, will feel more depressed and have less ability to weather life's storms.
Some people dismiss this as a "Pollyanna" attitude.  But over my years as a pastor, I've seen time and time again people who discovered the gift of gratitude, began to apply it, and had their lives affected for the better.  Every day we have choices; we can choose to be grateful and focus on our blessings, or be resentful and ruminate on the rottenness of life.
The fact that the medical impact of thankfulness can be corroborated scientifically is fascinating.  The scientists have all kinds of explanations for what happens:  our endorphin levels rise, stress hormones subside, and so on.  But I have a more fundamental explanation:  this is how God made us!  He intends us to be grateful, to express our gratitude, and to life psalms and songs of thanksgiving to Him!  When we do that, we are "in tune" with our Creator, consonant with His will, resonating with His purpose.  We feel better because we are better!
This month, as we gather together with neighbors and friends at our neighborhood Thanksgiving Eve Lovefeast, I hope you will take the opportunity to reach out and express your gratitude to someone else – and especially to our Savior!
-          Pastor John