Ordinary Time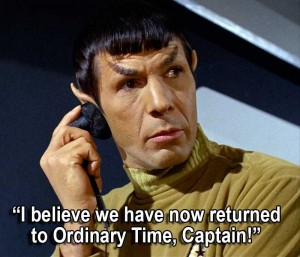 We are now in Ordinary Time! Sounds like H. G. Wells or Doctor Who or Star Trek – you know, after the USS Enterprise has emerged from a singularity that has created a tear in the space-time continuum, Mr. Spock calmly announces, "Captain, we have successfully returned to Ordinary Time." But it has nothing to do with science fiction – it's actually the portion of the liturgical year that is not Advent or Easter or Pentecost. There are actually two periods of the Church Year that are referred to as "Ordinary Time:" the period following the Baptism of Jesus until Ash Wednesday, and the period following Pentecost until the beginning of Advent.
I've always been a bit intrigued with the concept of "Ordinary Time." Since most of our lives are lived in "Ordinary Time," regular days at the office or at school or commuting to work, I think it can be a terrific symbolic reminder that God is just as present in those average days as He is in the mountaintop days; that He is with us in the trenches of daily life as He is in the moments of celebration.
Read more about Ordinary Time on Wikipedia.
This is particularly important to us here at Trinity this year, because we've just finished a year of celebration, a year of parties and luncheons and special events to celebrate our Centennial. And now it's over, now we return to "Ordinary Time." There are no big parties and special events for the second month of our hundred and first year – or for the second Sunday of the third month of our hundred and first year. It's back to the regular work of being the Church. But that is a special as it gets, because it's there in midst of the day-to-day ministry that the work of God really happens, that the Kingdom is made manifest. That's the place where the sick are supported, where the bereaved are comforted, the needy find help, and the despairing find hope. Mighty important work, the work that is done in "Ordinary Time!"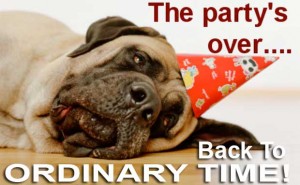 So it's back to Ordinary Time, back to the week-in, week-out work of the Church of Christ. Ordinary Time can be pretty special!
- Pastor John
Comments are closed.