Sunnyside Clinic Closes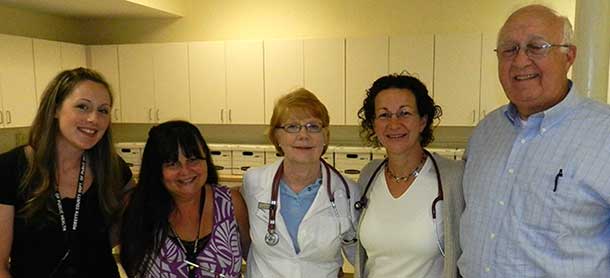 "In the bulb there is a flower…in the cold and snow of winter, there's a spring that waits to be."  These words from the wonderful hymn by Natalie Sleeth capture well my feelings as we ushered out the last patitent at the last Sunnyside Medical Clinic on Thursday, June 20 – and then closed the doors.
The choir came down and together with the nurses and doctors and staff from Sunnyside Ministry we sang the Moravian blessing hymn, "With Thy Presence Lord, our head and Savior" as a way of recognizing the end of an era, and the close of a neighborhood institution.
The Sunnyside Medical Clinic has been providing free medical care twice a month for people in this area for thirty-three years.  The clinic began in 1980, using volunteer doctors and funding from the State Health Department to provide medical care for those who had no insurance and could not afford medical care through traditional institutions.  Over the years, the Clinic has served thousands of people, including many of our members.  But in recent years, attendance at our Clinic has dwindled – the opening of a new free clinic sponsored by Novant Health in Waughtown and another that is open twice a week at Southside Baptist siphoned off our "customers."  We rejoice that their needs are being met, and pray that those clinics will be able to continue to provide care for this in need!  However, the dwindling numbers at Sunnyside Clinic and severe state budget cuts meant that the Health Department had to terminate funding for the program.
But as the song says, "In cocoons there is a promise, butterflies will soon be free!"  Time marches on, circumstances change, and this important ministry of our congregation became less important.  Rather than spending time mourning the changed circumstances, we should instead realize the blessing that someone else has picked up this particular torch.  We must ask the question, what is the NEXT good thing that we will do together?  What is the Savior leading us to do now with the freed resources and people of our congregation?  The needs in the world are daunting, there is never a shortage of things that ought to be done.  But as Moravians, we follow the Lamb who has conquered.  Where is He leading us?
Our Joint Board has already been discussing possibilities for dynamic new ministries that meet the needs of our changing neighborhood today.  As we respond to God's call, we do so with the confidence that what we do in the name of the Savior will be blessed – and will bear fruit!
Comments are closed.