Festival of August 13th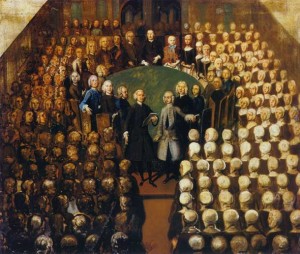 This month, we celebrate a uniquely Moravian event as we gather for Holy Communion in Celebration of August 13th, the time in 1727 when a powerful experience of the Holy Spirit swept through the congregation at Berthelsdorf, Germany.  The experience was so profound that it was likened to the experience of the disciples at Pentecost, and it marked a new era of God's work among the Moravians.
A lesser-known part of this experience was the Children's Revival that followed.  A few days after the experience of forgiveness and reconciliation among the adults, a number of children at the village school felt called to prayer, and began to organize their own prayer groups.  The adults were so inspired by the spirit of the children that it reinforced their own experience and helped to drive the famed Prayer Watch that went on continuously for the next hundred years; and there is no doubt that it was out of the prayer and study that followed that the seeds of the mission movement came.
This month, we have the remarkable opportunity to have the Rev. Dr. Riddick Weber visit to lead two Sunday School workshops about the Moravian movement.  Brother Weber is professor of Pastoral Ministry at Moravian Theological Seminary in Bethlehem, PA, and is one of our leading experts on the revolutionary social systems that Moravian communities engineered.  He can speak with great authority about the intriguing ideas that they employed that made those communities work and witness!  I hope that you will take the time to come out for these Sunday School workshops this month.  Brother Weber will also officiate over Communion on August 11th while I am away directing the next segment of the movie "But Now I See," and will bring a meditation about the August 13th experience and its meaning for us today that is well-informed and inspiring.
Comments are closed.