The Science of Happiness
A few weeks ago, we viewed a brief video as part of a sermon called "The Science of Happiness."  If you missed it, you can view the video HERE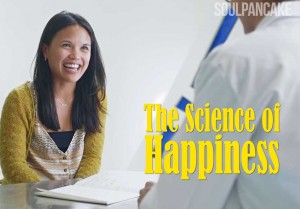 .  It showed in practical examples how those who expressed gratitude to others had measurable improvements in their mood and feelings.  The mental "attitude of gratitude" is something that affects those around us – and affects us internally.  It's not just a psychological fact, it is a spiritual reality.
Scripture is clear on calling us to express our gratitude to God, and to those around us who have positively impacted our lives.  Practicing acts of thanksgiving changes our outlook, makes us more hopeful and optimistic, and gives us the spiritual endurance to get over the inevitable potholes and speed bumps of life.  Of course, the reverse is also true: those who constantly complain, who focus on the rottenness of life and other people, will feel more depressed and have less ability to weather life's storms.
Some people dismiss this as a "Pollyanna" attitude.  But over my years as a pastor, I've seen time and time again people who discovered the gift of gratitude, began to apply it, and had their lives affected for the better.  Every day we have choices; we can choose to be grateful and focus on our blessings, or be resentful and ruminate on the rottenness of life.
The fact that the medical impact of thankfulness can be corroborated scientifically is fascinating.  The scientists have all kinds of explanations for what happens:  our endorphin levels rise, stress hormones subside, and so on.  But I have a more fundamental explanation:  this is how God made us!  He intends us to be grateful, to express our gratitude, and to life psalms and songs of thanksgiving to Him!  When we do that, we are "in tune" with our Creator, consonant with His will, resonating with His purpose.  We feel better because we are better!
This month, as we gather together with neighbors and friends at our neighborhood Thanksgiving Eve Lovefeast, I hope you will take the opportunity to reach out and express your gratitude to someone else – and especially to our Savior!
-          Pastor John
Comments are closed.