Slow – Advent Happening!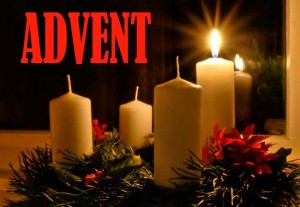 The day after Halloween, the Christmas decorations went up in many stores and the Christmas carols started.  Many eye rolls and groans about Thanksgiving being forgotten.  But our commercialized society has lost more than that – the juggernaut that is Christmas marketing has steamrollered over Advent, as well.  Liturgical churches like ours still observe Advent, and we're going to keep lighting those Advent candles no matter what the marketers outside do!
Advent is not Christmas – it is a four-Sunday time of preparation for Christmas, just as Lent is a time of preparation for Easter.  But our culture is not one of preparation, it is one of sales and marketing.  Let's move those flat-screen TVs and Chinese toys!  We live in a world of instant everything, we want to be able to move right to the punch line, cut to the chase!  But there is great spiritual value in slowing down, in preparing, in getting ready.
In days of yore, a young craftsperson had to be apprenticed to a master for a number of years to learn a trade.  During that time of preparation, the apprentice could make beginner's mistakes, learn from the experience of the master, and gradually gain expertise – until he or she became a "journeyman" and eventually a new master!  Our fables and stories seem to value this kind of learning, but when we look at the actions of our culture it is denigrated.  We want fast-track success, short-cut learning, speed dating, and instant everything.  We live in a schizophrenic culture that honors Dicken's Christmas Carol while at the same time iconizing our own cultural Scrooges!
I urge you to set aside the time this year to slow down, to prepare, to observe Advent even if everyone else has fast-forwarded to Christmas.  Seasons are good, honor and grow by celebrating this one!
-              Pastor John
Comments are closed.