A Moravian Christmas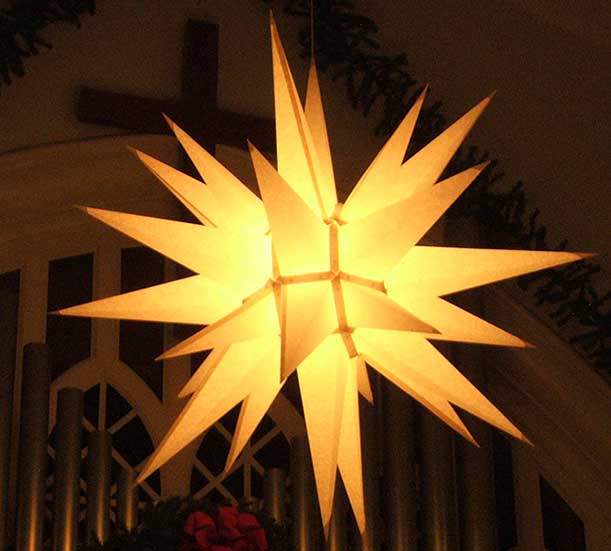 Moravians sure know how to do Christmas!  But did you know that the Moravian Christmas celebrations in Bethlehem and Salem were regarded with suspicion by other religious folk of the day?  In fact, Puritans had outlawed the observance of Christmas in the early colonies, viewing it as a "Popish," or Catholic, holiday filled with sin and excess?  In fact, Puritan laws forbidding Christmas were not repealed until 1681, and during the 18th century most religious folks did little if anything to observe Christmas.  Christmas did not become an official holiday in America until 1870.
Bethlehem, Pennsylvania was named by Count Zinzendorf of Christmas Eve, 1742, to recall the village of Jesus' birth.  Moravians saw the incarnation of Jesus as a pivotal event that changed all of human history, and they thought that the love of God expressed in Jesus' birth should infuse all of life and practice and faith.  They had no problem with rejoicing and celebration to honor the birth of the Savior.  So they went right on having their Christmas services and pretty much ignored what everyone else thought.  When the practice of sharing lit beeswax candles with the children began in Germany on Christmas Eve, 1747, the Moravians in Bethlehem adopted the celebration right away the very next Christmas Eve.  When Salem was founded, the Candle service was a beloved tradition, though back then the candles were only given to the children of the congregation.
Like those faithful Moravians of old, we can celebrate our faith in Jesus Christ without worry or concern about what the rest of the world does.  Don't get caught up in "Christmas wars" or outdoing the neighbors with your Christmas display.  In fact, it might be a good idea to cut back on some of the worldly trapping of the season and focus more time and energy on being with your family and creating new memories.  Try an Advent calendar with your grandchildren!  Take them to see the Putz in Salem.  Explain to them what Christmas means for your faith.  Set aside time to do something nice for a person who has not been nice to you.  Instead of watching a movie of Dickens' Christmas Carol, get the book and read it aloud to your children, pretending to be the various characters.  It's a lot of fun, and an experience your kids won't forget.
These things which bring meaning to Christmas and build memories don't cost much at all, but they have spiritual impact that will outlive this year's hot toy or soon-forgotten video game.  This year, invite a family in your neighborhood to one of the Christmas Eve Lovefeasts – there are many Winston-Salem residents who have heard about the Candle Lovefeast but never experienced it.
May the light of Christ's love, glowing from stars and candles and faces, illuminate your life this year!
-Pastor John
Comments are closed.