Today Is the Day!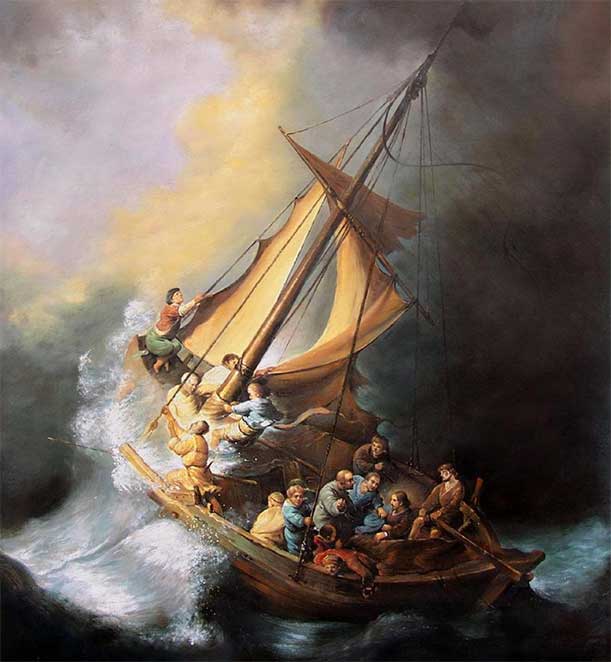 This sermon was preached on June 21, 2016 at a hastily arranged joint service between St Philips Moravian Church and Trinity Moravian Church on the Sunday following the killings at Emanuel AME Church in Charleston, SC.
2 Corinthians 6:1-13
Mark 4:35-41
This has been one of those weeks where every pastor says to themselves, "What shall I say?"  And as I looked over the service, I realized that the service we had planned, based on the prescribed lectionary readings, was uniquely appropriate for a time when we may be beset by fear.
You may have seen Rembrandt's painting of this story, the story of the calming of the sea.  It is an amazing painting, showing the wave-tossed boat, the waves, the storm clouds.  It was the only seascape he ever did.  What is interesting is that if you carefully count the people in the boat, you will find fourteen — the twelve disciples, Jesus, and Rembrandt himself.  Because he was making a statement, a statement that said, "I am in the boat fearful with the disciples."  Well, we are in the boat fearful today.  It is so hard to wrap our minds around the terrible events in Charleston this week.
Some of us pastors have been talking both in person and online about what to say today.  My dear brother Sam Gray, whom I always pay attention to, pointed out that in the first century they did not understand how the weather worked the way we do today.  Of course, they did not have Accuweather, they could not go on Weather.com and pull up the radar, they did not have our local weather caster Laney Pope to pop up and say "Big storm coming!"  They would have little notice, and had to pay prompt attention to the signs — the freshening wind, the change in temperature.  They thought that the storm essentially was the symptoms that they could see — the waves and the wind and the billowing clouds.   They did not understand scientifically that the thunder was the rapid expansion of superheated air around the lightning bolt, that the lightning bolt itself was caused by differential in electrical potential between the ground and the clouds.  But above all, they did not understand that all these symptoms were caused by a huge low pressure system.  A system much larger and more powerful than the symptoms they observed on the surface.
So too we look at the symptoms, we see the waves coming over the bow, we hear the thunder, we feel the wind, and we are scared of the symptoms.  We humans tend to do that.  We often confuse symptoms with causes and causes with symptoms.  A hundred years ago, doctors thought that the blood clots they would find in arteries during autopsy after a heart attack were caused by the heart attack — not the other way around.  Today we know that it is those blockages that cause the heart attack. Often the things we think of as incidental, as not mattering much, are actually the causes of the things we fear.
When we've had a week like this, when there is a terrible tragedy, it's sort of a litmus test.  There has been a lot of chatter this week, displaying the dividedness of our nation — what we say seems to depend more on our beliefs before the event than on the event itself.  And I've heard many comments this week about symptoms.
I've heard it said that the problem is there are too many guns in this country, too easy access to firearms.  Well, sure!  There are way too many guns in the hands of foolish and misguided people in this country.  It is too easy for an angry person to kill a bunch of people in seconds.  But in 1981, Michael MacDonald was lynched with a rope — a rope that could have been used to save a drowning person or pull a car out of a ditch, but instead was used to murder.  In 1965 at Selma, James Reeb was beaten and kicked to death, kicked to death with boots that could have been better used to march for good.
I've heard other people say that it's our mental health system that is a mess. Well, yes, our mental health system is terrible.  It's had cost-cutting go on year after year until it is eviscerated and crippled, it's had too many good ideas go awry. We don't have enough beds and counselors to deal with even a tiny fraction of the problem.  I can't even describe how broken that system is.  But we also know for a fact that the mentally ill are far more likely to be victims of violence rather than perpetrators.
We have people who say "Our country has gone away from God, we need more God, we need more Jesus."  Well, duh.  Sure, things would be better if everyone were to seriously try to live out the love of God.  But sometimes when I pick at that and pull at it a little bit, I find that what they are talking about is a white Jesus who apparently belongs to an exclusive country club.  And we don't need any more of THAT Jesus, we need the Jesus of the Gospels who loved the outcast and reached out to all who were hurting and needed His love. That's the Jesus we need.
And so we focus on one symptom or another, depending on what we already thought a week ago.   And we say well, that's the "cause" of all of this — but no, I think the cause is like the storm – it's a huge system behind the symptoms that we can't see and we don't like to talk about and we don't like to acknowledge.  A big powerful system of hatred and racism and malice.  And we like to pretend that it doesn't exist anymore — but it does.
My friends, I will state it as plain as day:  this young man said clearly that he committed these horrific murders of entirely innocent people BECAUSE THEY WERE BLACK.  No other reason.  Racist hatred had taken him to a place of darkness that I hope we don't understand.
And God save us all, he sat there in that meeting and thought "maybe I won't go through with it because these people are so nice."  Can there be any more specific definition of evil than someone who would have those doubts and yet still pull out the gun and shoot people who had been kind to him?
It's easy for us to look at the symptoms and say "that's the cause" and then say, "It has nothing to do with me."  But it does have something to do with us.  It has something to do with every one of us on both sides.
Those who were killed included four pastors, one retired, a track coach, a choir member, an elderly aunt, a college student who was her nephew and who stood between her and the bullet.  We are those pastors, we are that choir member, that coach, that aunt, that nephew.  But we are also the perpetrator.  For every one of us has participated in that system of oppression, that judgment and condemnation.  Even when we try hard, we fail, we move forward and we slip back.  When we look the other way, when we laugh even uncomfortably at terrible jokes, when we passively accept the wrongs that are perpetrated, we are part of that big system that produced Dylann Roof.
I am so glad that we can come together today and enjoy one another, and celebrate our oneness in Christ, our love for one another.  But the question is what are we going to do now? We need to move forwards with this.  We need to move forward in embracing on another in love.  We need to go ahead and stand against racism and hatred whenever we encounter it in our lives.  And I mean right down to when someone tells a hurtful joke in our presence, a joke that tears at the humanity of people of color or of a different religion.  We need to leave the room, we need to call out the joke-teller and challenge the casual racism that pervades our society.  It's time for us to have the courage to do what we know in our hearts to be right.  We need to love like Jesus loved, fiercely and fearlessly.
Originally, I was planning to preach on the passage from 2 Corinthians this morning.  But that also is so appropriate for today!  Paul mentions the endurance of the disciples through afflictions and hardships, through calamities, beatings, imprisonment, riots, sleepless nights, hunger, that they had gone through to bring the love of God to other people.  They suffered for the Gospel.  And they participated in the suffering and death of Jesus Christ to bring love to others.  And he says "TODAY is the day, now is the acceptable time; behold, today is the day of salvation."  And today IS the day to start, the day to take action.  Not tomorrow, not next week, not when we get around to it.   And he goes on, "We put no obstacle in anyone's way."  What obstacles do WE put in the way of others in living out their faith, in discovering God's love?  How do we put that off and interfere with the progress that God desires for others?  We have been through many years of the remarkable phrase that our Supreme Court invented, "all deliberate speed," which basically means to make haste slowly.  And we have turned that into deliberate foot-dragging.  But God tells us TODAY is the day.  Not tomorrow, not in a week, not in a few years, not in ten or twenty years.  TODAY.  Now is the acceptable time.  Here we stand fifty years after Selma and while some people would say there's been a lot of progress,  I'll stand up here and tell you that we have not made nearly enough progress.  Still today, it is far too easy to be arrested or harassed when your only crime is breathing while brown or black, being in the wrong neighborhood when you are a person of color.  Still today our society is divided, still today the effects of racism and slavery ring on in our culture.
Now I should mention something that is rarely referenced — blacks aren't the only ones who have been enslaved in our history.  There was a period in the 1600s when boatloads of Irish were shipped over as slaves in conditions not too different from those experienced by Africans.  Even later on the system of indentured servitude came awfully close to slavery when it was abused, when tricks were used to keep servants in debt so that they could never buy their way out of what amounted to slavery.  Much of our early prosperity arose on the backs of exploited and abused people, a system of owning human beings.  When the Moravian Church in Salem during the eighteenth century made that terrible choice to purchase a human being, we took a giant step back from our ideals and our calling.  It doesn't matter that the church treated slaves better than anyone else, it was a betrayal of our very beliefs.  In 2006 our Synod voted to apologize for our participation in slavery.  But it took us over two hundred years to do the right thing, and in the meantime there were many other ways in which we fell short of the very beliefs that we espoused and preached.
There are many ways in which our culture has sought to keep different people down, economically and in other ways.  The people who can end racism are those of us with light skin, those who have inherited the prosperity of the past that was created on the backs of slaves.  We're the only ones who can really put an end to it.   People of color have been demanding it for years.  It is the rest of us who have to get on board.
Sociologists tell us that as we do make progress, those who feel their power and privilege slipping away from them will become anxious and will lash out.  That's what was going on this last week.  And so it seems that every time we take two steps forward, we take one back.  This last week one hatred-filled young man tried to make us take a step back.  But we must not let hatred win, we must instead take two steps forward, and if God is willing, THREE!  We will persevere, we will move forward.  Let "deliberate speed" now mean that we move forward with a deliberation and determination that cannot be sidelined, that cannot be diverted, not letting anything  – ANYTHING — distract us or dissuade us.  The course of history shall still bend towards justice — and together we will march in that direction.
-          Pastor John
Comments are closed.