Centennial Celebration!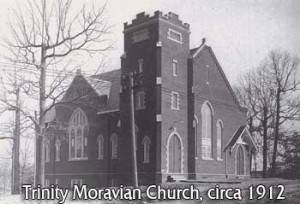 Well, the date has finally arrived! This month marks the Centennial anniversary of Trinity Moravian Church. Though the construction of the building was begun in late 1911 (that's why the cornerstone has the earlier date) and the first worship services were held in May, the official Charter was not closed and accepted by the Provincial Elders Conference until July 14, 1912 – that's when Trinity became an active, full-fledged congregation.
We will hold our great Centennial Celebration on Sunday, July 15th at our 11 am service. The Right Rev. Graham Rights, who grew up in our parsonage during the years his father, the Rev Douglas Rights, was pastor, and the Right Rev. Wayne Burkette will be our special guest speakers. We anticipate many friends and children of the church to be visiting back with us for this wonderful day, which will also feature the first performance of an original anthem composed for the occasion.
While this day marks the "high spot" of our anniversary, we will continue to have special moments of recognition through the rest of the year, including several other guest speakers who have connections to the history of the congregation. We'll release a special color pictorial directory complete with both historic photos and pictures of our celebration events; we'll have a special dedication of the brick memorial garden; and there will be several other recognitions of important moments from our history.
I want to extend my personal thanks to the Centennial Committee for their hard work in planning these events, and especially to Joyce Carter and John Foltz for the many hours of extra "behind the scenes" work; to Donna Rothrock for organizing the Centennial Concerts; to Jonathan Sidden for supervising the composition of the commemorative anthem; to Elaine Cockerham and Betty Jo SLuder for their work on the pictorial directory; and to the many other people who put in hours of work in the archives and other places to make this event possible. Finally, I want to extend a special "thank you" to Kim Noftle, our office administrator, through whose capable hands and work many of the ideas of the Committee became reality – either in the form of newsletters, special bulletins, or simply making sure that specially ordered items were here on time! Thanks to all of you!
- Pastor John
This entry was posted by PastorJohn on June 26, 2012 at 1:22 am, and is filed under Celebration, History. Follow any responses to this post through RSS 2.0. Both comments and pings are currently closed.
Comments are closed.