All Saints' Day and Thanksgiving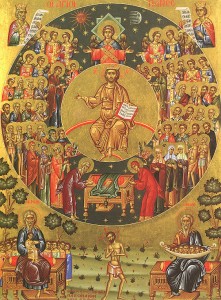 November is a month bracketed by All Saints Day (November 1) and Thanksgiving (November 22) and ends with our move into the season of Advent. Just like the changing weather, November is truly a change of seasons in the Church!
All Saints' Day began back in the Middle Ages when the Roman Catholic church began to run out of calendar days for Feasts in honor of lesser saints. While it began as a sort of catch-all festival to acknowledge lots of lesser saints who didn't have their own feast day, in the Protestant church it became a chance to celebrate and reflect on all the unacknowledged saints who have passed the faith on to us and now are in the more immediate presence of the Savior. Many of these are folks who would never have been recognized as "official" saints, but they are the true working Christians who have lived out the message, passed on the love, shared a cup of water with the thirsty and bread with the hungry. On the first Sunday in November, we'll come together and remember those saints who have touched our lives.
On November 11, we will celebrate Holy Communion in remembrance of the 1741 announcement that Jesus Christ had been elected as Chief Elder of the Moravian Church. While the election happened in September of that year, the celebration was delayed to make sure that all the mission outposts in far-flung parts of the world could receive the word and celebrate on the same day. This very peculiar Moravian tradition is a powerful symbol that we follow Christ and Christ alone.
The modern celebration of Thanksgiving has moved around a bit from time to time, but has generally been the fourth Thursday in November. Once again this year, we will join with other neighborhood churches in a Community Thanksgiving Eve Lovefeast on Wednesday night, and take a special offering that will be used to benefit the needy in our area. This is a wonderful service to invite friends, neighbors, and family to – a time of thanks and praise to our creator God!
- Pastor John
Comments are closed.